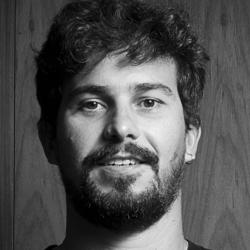 Guga Ketzer
Partner & Chief Creative Officer
Guga Ketzer is a partner and Chief Creative Office at Loducca, the 5th most creative independent agency according to Cannes Lions 2013 and the most awarded independent Ibero-American agency in the world for two years in a row.
He's one of the most respected creatives in Brazil and has been responsible for creating fully integrated campaigns for all the agency's clients, including Red Bull, Ambev, GVT, Leroy Merlin, Yamaha and Nextel.
In 2001, when he was only four years into his career, he won the only Gold Lion in print for Brazil in the Young Creative Competition at Cannes. Guga has also won local and international awards – including One Show, D&AD, Clio, LIA, Fiap, El Ojo, NY Festival, Prêmio Abril, CCSP, Wave, Cannes (30 Lions, among which, 6 Gold) and the only Tomorrow Award ever granted to Brazil – besides serving as judge at some of these events.
In 2009, he was elected the best Brazilian creative and in 2011 was nominated "one of the top 10 most important people in Brazilian communication". In that same year, he was appointed by Advertising Age as one of the "Creatives You Should Know".
According to AgencyScope 2012's research, Guga was considered one of the 13 most outstanding admen in the country by the marketing industry.