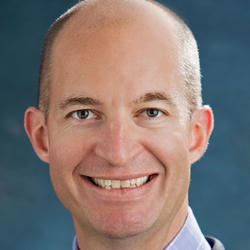 Christopher Miller
Divisional Vice President, Global Brand Strategy and Innovation
Chris is Divisional Vice President and Head of Global Brand Strategy and Innovation at Abbott where he combines a relentless pursuit of perfection with a passion for experimentation, traits that have served him well across the shifting digital landscape. At Abbott, Chris leads the global brand expression and digital teams, as well as innovation in the marketing and advertising space. He is responsible for evolving Abbott's corporate brand and setting the company's vision and direction in the digital, mobile and social space.
Chris joined Abbott in 2013. Prior to joining Abbott, Chris spent five years at IPG agency Draftfcb as the Chief Digital Officer. There he was a catalyst for change, transforming digital from a small department within the agency to a mindset integrated throughout all departments and teams. He grew digital at Draftfcb with intensive training for senior leaders, including the Hyper Island Master Class, world-class partnerships with innovative companies such as Google and Facebook, and developing a reverse mentorship program pairing senior leaders with junior- level and tech savvy employees. Before Draftfcb, Chris was a co-founder of Tractiv, which Omnicom acquired in 2005 to build out its digital competencies at Element79. While at Element79, he led the digital strategy and operations for the agency as chief digital officer while also taking an active role with new business development and clients; such as Gatorade, Celebrity Cruiselines and launched the premium cruise line Azamara.
Chris co-founded and led chemistri before rolling up multiple agencies to form Arc Worldwide, one of the top interactive agencies in North America. He also worked in the Leo Burnett network, growing from manager to EVP/director, and started two design companies. Along the way he's worked with the US Army, Nintendo, Allstate, Adidas, Disney and McDonald's. Chris is a past member of Apple's Customer Advisory Board and has been a frequent speaker at industry events and universities. He's continued his contribution to the industry as a judge for the final round of the Effies, the 2013 Cannes Lions mobile jury, and the 2013 IAB MIXX awards.
He is a graduate of Drake University's Journalism program, where his love for learning fueled him to major in three disciplines—advertising, radio/TV and media graphics—graduating one class shy of a fourth major. When not at work, Chris is an aspiring triathlete, so you'll find him cycling, running or swimming, even with a busy travel schedule. Although as a PADI IDC Staff Instructor and a co-owner of a dive shop in St. Thomas, USVI, he has a self-confessed desire to be under versus on the surface of water.