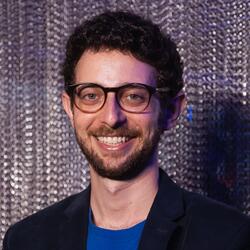 André Bain
Vice President of Marketing
André Bain is the Vice President of Marketing at Siprocal. Siprocal is a first of its kind, next-gen platform that provides solutions for gaming and app distribution, monetization, and engagement.
André founded and was the CEO of Flowsense, a startup specializing in app engagement, which was acquired by DigitalReef in 2021. DigitalReef later joined Gamers Club to form Siprocal.
A graduate in industrial engineering from the University of São Paulo, Latin America's most prestigious university, André has lived in Israel and Australia and has worked in strategic consultancies Booz&Co and Lunica. He was selected to the Forbes Under 30 list in 2020 for his work at Flowsense.
About Siprocal
Siprocal is a next-gen platform that offers solutions for the distribution, monetization and engagement of games and applications. Siprocal uses direct audience access and insights from first-party data to promote new connections and conversions. Present across the Americas, Siprocal impacts hundreds of millions of individuals every month on their favorite channels, whether cell phones, Connected TVs, streaming services or gaming.