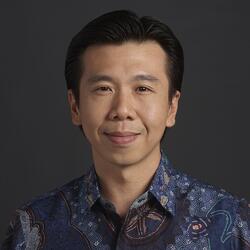 Alex Kurniawan is Marketing Director of PT Kino Indonesia, Tbk, heading 3 Business Units i.e. Personal Care, Beverages & Pharmaceutical. He leads a matrix of functions including Brand Management, Product Innovation,  Marketing Communication, Insight & Planning, Brand Activation, Public Relations and most recently E-Commerce as well.
Alex is a seasoned marketer with ~15 years experience in many businesses ranging from personal care, children milk, cigarettes, cosmetic & luxury product and beverages. Prior to Kino, Alex was the Head of Marketing for PepsiCo Indonesia, responsible for Beverages, Snacks & Quaker divisions.
Alex is a Prasetiya Mulya Business School graduate with a Master Degree in Marketing, where he graduated with honors. He lives in Jakarta with his wife and two sons.