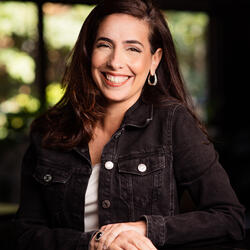 Adriana Aroulho é presidente da SAP Brasil desde agosto de 2020, após atuar como Chief Operation Officer (COO). Está na companhia desde 2017, quando chegou para liderar a Plataforma Digital Empresarial no País. Como vice-presidente da área, posicionou a organização em um patamar mais elevado, com projetos relevantes e estratégicos em licenças e forte crescimento em cloud.
Em janeiro de 2019, assumiu a posição de COO com o desafio de trazer crescimento sustentável e garantir a satisfação dos clientes. Seus esforços foram fundamentais para elevar o Brasil a Unidade de Negócios de 2019 na América Latina, que por sua vez foi a Região do Ano em toda a SAP.
Adriana é conhecida por sua visão de integração entre equipes, capacitação e disciplina nos processos. Seu principal olhar é para as pessoas, com especial atenção aos temas de diversidade e inclusão. Antes da SAP, esteve por 22 anos na HP/HPE, onde ocupou diversos cargos de liderança.
Formada em Ciências Sociais pela Universidade de São Paulo (USP), possui especialização em Administração de Empresas pela Fundação Getúlio Vargas e MBA em Gestão de Tecnologia da Informação pela FIA (Fundação Instituto de Administração, USP). Em 2015, Adriana alcançou o Stanford Innovation and Entrepreneurship Certificate, pela Stanford School of Business. É porta-voz do ODS-10 (Redução das Desigualdades) da Rede Brasil do Pacto Global da ONU.