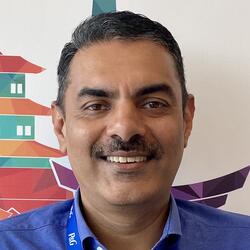 Venkatram Pattabhiraman (Venkat)
Senior Vice President - Analytics & Insights| Digital Marketing & Media | Commercial Leader
Venkat has twenty+ years of experience at Procter & Gamble across varied assignments in Media/ Digital, Marketing Strategy, Analytics & Insights and Information Technology.
His prime focus is in "pointing the torch to where the growth is" for the company and helping P&G brands grow market share profitably. He has worked extensively in all Asia, Middle East and African markets on over 15 global brands (Pampers, Ariel, Tide, Downy, Vicks ,Whisper, Oral-B, Lenor, Bold, Metamucil, Ambipur, Joy, Febreze). He is a big believer in in the Power of Simplicity driven by clarity of thought and passionately advocates this thinking.
Apart from making a difference at work, playing competitive sport is a huge passion and he has captained the P&G cricket team and a Division One Club team over several years actively playing the sport every weekend.