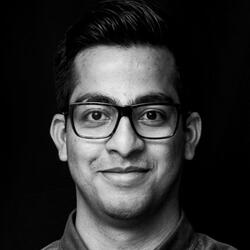 Suffiyan Syed
Digital Product Innovation Lead
Suff is the Digital Product Innovation Lead at SapientRazorfish where he's responsible for establishing and rolling out a practice of delivering sustainable innovation for clients across SapientRazorfish global offices. He believes in combining meaningful design and intelligent technology to enable human value. He's a self-taught Machine Learning engineer and a non-conformist. 
Prior to SapientRazorfish, Suff has worked and advised startups building creative and enterprise solutions. He's lead Design and Tech teams on agile projects through Design Thinking and Systems Thinking approaches; he is passionate about designing products and services that solve problems, delight people, generate user adoption, and drive strategic business value.
His in-depth knowledge and practical experience in software design, from design concept creation to development and release, enable him to build strong strategic partnerships with Research, Strategy, Design, Engineering, and Marketing teams to deliver innovative end to end solutions. He maintains a fine balance between leading, managing and being hands-on collaborative.