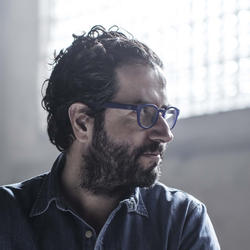 Sami Basut
Executive Creative Director
Sami Basut is a Bosphorus University English Language and Literature graduate and holds a master's degree in Advertising Design. He is currently working as the Executive Creative Director Wunderman Thompson whilst instructing the Copywriting for Advertising and Marketing Class in Bosphorus University - Turkey's Ivy League. A member of WT Inspiration Council, he has been a jury in many global advertising festivals like Cannes Lions, Eurobest, New York Festival, Golden Drum and a keynote speaker in many local and global marketing platforms.     
His work transcends advertising into entertainment, art and becomes part of popular culture.
His collaboration with TV shows has earned him a credit amongst the TV producers as he became a catalyst between brands and screenwriters. His organic storytelling has led to the invention of branded holistic episode integration and work like "Catch Pink If You Can" a mobile game integration done in real time broadcasting of the TV series and "Silent Window" Turkey's most tweeted Soundproof Outdoor which has turned another TV Show into a live concert experience; has been showcased many times around the world as best practices and took his agency to the world's 35th most creative agency in Warc's list in 2015. Under his creative leadership his agency has also been named as the most effective 4th agency in Europe. His work for brands like Axe, Sunsilk, Rexona has won Grand Prix in local awards shows. His agency has been praised for winning so many Grand Prix's with so much diverse work. A true entertainer in heart, he holds the record for two of the most watched Branded Music Videos in Turkey, which turned him into a mentor with musicians, pop stars and rockstars.
His work has been ranked in Youtube Ad leader-boards in top 10 many times, his personal record being 4 out of 10. A true proud feminist, he helped women to raise their voice with Sunsilk, when a girl was assaulted for her outfit choice in a bus during Ramadan. The campaign created awareness around the unfair treatment and got international coverage for women's right for freedom while bringing his agency another local Grand Prix. During the pandemic he has worked with Adidas on delivering an Uncancelled Cup which became the most watched sports event in Turkey.