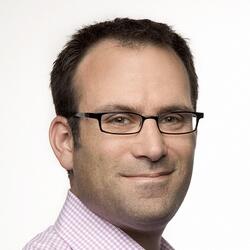 Noah is Industry Index's Chief Product Officer. A 15+-year digital industry veteran, his career has revolved around the intersection of technology, marketing and content. At Industry Index, Noah is responsible for marketing, product strategy and development of the company's research offering.
Prior to joining Industry Index, Noah was Executive Editor and Chief Evangelist at eMarketer, where he wrote dozens of reports and delivered 100+ webinars and in-person presentations that helped clients understand the latest digital marketing, media and commerce trends and the implications for their business. Noah worked closely with the marketing, business development and account management teams, taking a key role in pursuits, pitches and growth strategy for top enterprise client accounts and prospects.
Before eMarketer, Noah served as Managing Partner at UK-based digital marketing agency Steak, which he helped launch in the US, and Vice President of Corporate Strategy for iCrossing, where he helped to build the company´s social media practice and worked with clients in the automotive, financial services and hospitality industries to execute strategies integrating social media into online marketing campaigns. He also authored a highly regarded series of studies on search, interactive, mobile and social media marketing.
A familiar face at industry events, Noah speaks and keynotes regularly at conferences such as ad:tech, Digital Collective, iMedia Summits, Mobile World Congress, Mobile Marketing Association Forum, Mobile Media Summit, Digiday, OMMA and Search Engine Strategies. At eMarketer, he was the centerpiece of the company's annual multi-city marketing roadshow and the go-to presenter at client events. Noah has been quoted in leading publications, including the New York Times, The Wall Street Journal, Bloomberg BusinessWeek, Forbes, Ad Age and NPR's "Marketplace." He is also the co-author of Mobile Marketing: An Hour a Day (published by Wiley/Sybex, December 2012), the comprehensive, step-by-step guide for building a brand and business with mobile.
Noah holds a Ph.D. from Rutgers University and is the recipient of a Fulbright Fellowship to Brazil. He earned a B.A. with honors from Columbia University.