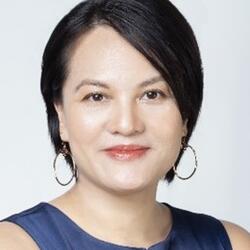 Nguyen Quynh TRAM is the Country General Manager of Microsoft Vietnam. Under this position, Tram is responsible for accelerating Vietnam's digital transformation across industry verticals by helping businesses adopt cloud technologies, build their resilience as they recover from the pandemic and empower digital-first companies and start-ups with the tools to scale their innovation.
Tram has more than 20 years of international management experience across Europe and Asia, having been in senior leadership positions in technology, telecommunications, and media ecosystem.
Before joining Microsoft, Tram led the country operations for Google APAC, covering Vietnam, Cambodia, and Laos. Prior to that, she was the Vice President and General Manager for FOX Networks Group and had led leadership positions at Vietnamobile, VSTV – the first joint-venture between the national broadcaster Vietnam Television VTV and the French Pay TV group Canal Plus -, PayPal, and Orange France. Tram was also a Fellow Researcher and Author for the United Nations Development Programme.
Tram earned a Master of Business Administration from École Supérieure des Sciences Economiques et Commerciales (ESSEC Business School) and also attended Erasmus University Rotterdam, School of Economics.
Tram now lives in Ho Chi Minh City. On her free time, she likes traveling, baking, designing jewelry and flying yoga.