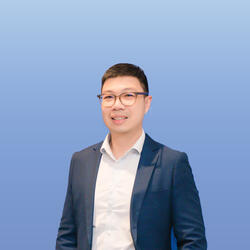 Step into the world of visionary entrepreneurship and business strategy with Nguyen Huu Anh Hao. With over a decade of experience, Hao has carved an exceptional path in the digital landscape, driving innovation and creativity at every turn. As a pioneer leader behind DGV Digital's dynamic business model, his journey is a testament to remarkable achievements and a profound impact on the tech and business sectors.
Hao's educational foundation is established with a degree from Hồ Chí Minh National University, reflecting his dedication to academic excellence. He holds a Project Management Professional (PMP) certification, showcasing his mastery of project management, and is also a Certified Loyalty Marketing Professional (CLMP), highlighting his expertise in customer-centric strategies.
Hao's career embarked on an exciting path when he joined Rocket Internet in 2012. This early exposure to the dynamic world of digital innovation fueled his passion for transformative technologies. Subsequently, his tenure at Ernst & Young Vietnam from 2013 to 2020 showcased his versatility, combining technical prowess with strategic insights.
Hao's professional ascent has encompassed roles of elevated responsibility, from senior management to directorial consultancy in the realm of Information Technology. His insights and guidance have been instrumental in driving business innovation and technological advancements within the organization. Hao's strategic leadership has played a pivotal role in initiating projects like Zalora, a venture that would later pave the way for the renowned platform Lazada.
Also, his participation in various industry events, mentorship of startups, and contributions to thought leadership collectively demonstrate his professionalism in anticipating industry trends, recognizing avenues for growth, and cultivating innovation – all of which form the cornerstone of his achievements.
In 2020, Hao became the Co-Founder & CRO of DGV Digital. This marked a turning point in his career, enabling him to redefine the digital ecosystem. His visionary leadership and experience garnered from his previous roles played a crucial role in shaping DGV Digital's direction. His visionary leadership and experience garnered from his previous roles played a crucial role in shaping DGV Digital's direction.
As a co-founder, Hao's visionary drive has been the driving force behind DGV Digital's groundbreaking journey. His ability to harness innovation, build strategic partnerships, and foster a culture of excellence has been pivotal in the company's success. Beyond his strategic prowess, Hao has a profound understanding of the intersection between technology and business, ensuring DGV Digital remains at the forefront of the digital revolution.
In the ever-evolving realm of digital entrepreneurship, Nguyen Huu Anh Hao stands as a testament to the transformative power of innovation and strategic leadership.