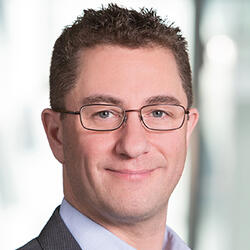 Michael Schoen
EVP / GM, Marketing Solutions
@mschoen
Michael Schoen is the General Manager and Vice President, Marketing Solutions at Neustar, developing and perfecting a unified marketing intelligence platform that enables companies to win in the connected age. Michael oversees the end-to-end system of identity, helping companies know everything they can about customers and prospects, create spectacular customer experiences, and analyze what worked and how to make it better. His leadership has been instrumental in architecting the industry's most authoritative and real-time marketing platform, built on trusted identity across people, places, and things.

Prior to joining Neustar in 2014, Michael was the EVP, Product at Cadreon, IPG's cross-channel audience measurement, management and buying platform. Michael was responsible for driving the product strategy, development, and technology partnerships that enabled Cadreon's offerings across all addressable media.

Prior to joining Cadreon, Michael was General Manager, Advertising Platforms and VP, Product & Technology at LookSmart, where he was responsible for building out a paid search platform and a publisher syndication business.
Michael holds an AB in Computer Science from Harvard College and an MBA from UCLA.