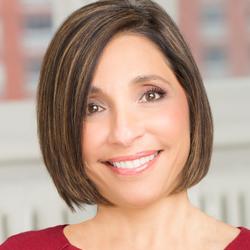 Linda Yaccarino
Chairman of Advertising & Client Partnerships
Linda Yaccarino is Chairman, Advertising and Client Partnerships, NBCUniversal. In this role, Yaccarino oversees all advertising sales and market strategy for the company's entire portfolio of premium video content, including broadcast, cable and digital. She reports to Steve Burke, Chief Executive Officer, NBCUniversal.
Since joining the company in 2011, Yaccarino has transformed NBCUniversal Advertising Sales. Her groundbreaking "one portfolio" plan amplified NBCUniversal's enormous power and reach by combining the company's broadcast, cable, and digital assets into one unified organization.
Under Yaccarino's leadership, NBCUniversal's 2017 Upfront was the most successful since Comcast bought the company—taking in more than $6 billion. Her portfolio strategy drove gains in broadcast, cable, and digital sales; resulting in NBCUniversal leading the marketplace for the third consecutive year. She also organized the industry's first "State of the Industry Forum" as a place for top decision-makers from across the industry to have a provocative dialogue about the current state of the media business.
In addition to bringing NBCUniversal "all together," Yaccarino has propelled it into the future, solidifying its status as a technology-driven content company by pioneering a suite of cutting-edge data, analytics, and consumer targeting tools. In 2016, she announced the company's Audience Studio, marshaling the full strength of a comprehensive suite of data products created under her watch: The Audience Targeting Platform, the NBCUx programmatic offering, and "NBCU+ Powered by Comcast", which leverages NBCUniversal's industry-leading assets to empower clients to make better data-driven decisions. Yaccarino also forged innovative distribution and content partnerships with AOL and Snapchat, which expanded NBCUniversal's digital footprint, alongside its investments in trailblazing companies such as BuzzFeed and Vox Media.
Prior to joining NBCUniversal, Yaccarino served as Executive Vice President and COO of Turner Entertainment Advertising Sales and Marketing and Acquisitions. During her tenure, Yaccarino continually grew Turner Entertainment's business year-over-year and was a principal architect of the company's "broadcast replacement" initiative, which elevated Turner Entertainment Networks to a premium position within the marketplace. She was also instrumental in developing and enhancing "inContext," the industry's first-ever contextual platform that helps feature the right ad, in the right place, at the right time.
Among her many industry honors, Yaccarino has been recognized at the top of The Adweek 50Power List, by Variety's "Power Women of New York" and The Hollywood Reporter's"Women in Entertainment: Power 100" multiple years in a row. She has also been named one of the "Ten Most Powerful Women in TV" by Adweekand as a "CEO of Tomorrow" by Business Week.Additionally she was honored by the UJA Foundation's Mac Dane Award for Humanitarian Excellence in 2017. Yaccarino sits on the boards of ascena retail group, Inc. (NASDAQ: ASNA), the Ad Council, Young Audiences New York (YANY), Girls Lounge, and the ACLD. Her community and professional affiliations include active involvement with WICT (Women in Cable & Telecommunications) and Penn State University, where she is on the Dean's Advancement Council in the College of Communications