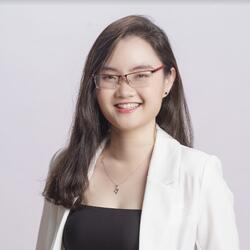 Kha Dinh
VIETGUYS - Mobile Marketing Solutions
With more than 10 years of experience in coordination and strategic consulting in several businesses and community projects in Vietnam, Ms. Dinh Mong Kha has played key roles in many organizations. Especially the position of Chief Executive Director at VietGuys J.S.C.

Following the management and strategic development from Ms. Dinh Mong Kha, VietGuys J.S.C is providing many outstanding solutions on mobile platforms to help businesses capture user insights and optimize Sales & Marketing activities throughout the customer journey through solution groups such as: Solutions (Pango Messaging, Digital Email Automation, OTPBox, Smart Warranty, OTT Multi Service, Customized), SMS Marketing, OTT Messaging (Viber, Zalo), Email Marketing, Voice Services, E-reward (Mobile Topup). Up to now, VietGuys J.S.C has deployed solutions for more than 5,000 domestic and foreign brands such as Pharmacity, Concung, Vietnam Airlines, Thegioididong, CGV, Garena, Grab, Shopee, Samsung, LG, etc.

Besides the position of CEO at VietGuys J.S.C, Ms. Dinh Mong Kha is currently a member of the Board of Directors and Deputy General Director of Operations at An Sinh Nhan Nghia Investment J.S.C, a senior strategic advisor of Loi Loi Dan Co., Ltd. Moreover, she is a Strategic Advisor of many professional projects, and plays an important role in the restructuring and operation of many enterprises. In addition, Ms. Dinh Mong Kha also is an instructor at PACE Institute of Management, Nguyen Tat Thanh University, etc.