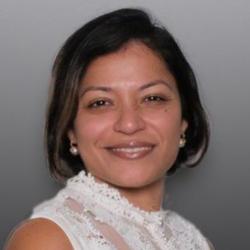 Kaajal Shivdasani
Head of Marketing, Southeast Asia
Kaajal currently holds a dual role at General Mills, heading both the marketing team across Southeast Asia as well as the Häagen-Dazs brand across Asia, Middle East & Africa.
Having lived and worked in 8 countries, Kaajal has spent over 16 years in marketing, with diverse experience across both ends of the spectrum – from large FMCG brands to early-stage start-ups. She has launched 3 successful brands from scratch, and taken a brand public. She's also helped large brands, like Häagen-Dazs and Ferrero Rocher, to innovate, identify new growth opportunities and enter new markets, with deep experience in Southeast Asia, as well as the broader Asia, Middle East & Africa region.
Kaajal is also an active angel investor, a mentor for the Singapore Tourism Accelerator and Plug & Play APAC, and on the Board of a number of start-ups. She holds an MBA in Marketing from London Business School, and is actively involved as an industry partner in their entrepreneurship & innovation programs. A professional hazard of having worked across both the chocolate and ice cream industries, Kaajal, without a doubt, has a sweet tooth.