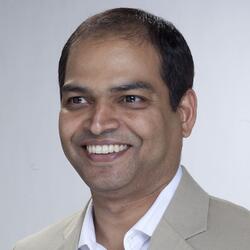 Himanshu Shekhar, CEO of Mindshare Indonesia & ASEAN Markets, is a media leader with over 16 years of diverse experiences in media across two of the world's largest emerging markets: India and Indonesia.
An Indian national, Himanshu came to Indonesia in 2010 to lead Mindshare Unilever Team, before being appointed as CEO of country operations in 2011. 
Prior to the Indonesia assignment, Himanshu had served in various leadership roles in India, including General Manager for Mindshare Fulcrum, the dedicated and celebrated unit of Mindshare India for managing media duties of Hindustan Unilever.
Before joining Mindshare India, Himanshu was Business Head North & West for BIG FM, India's largest FM radio network, and led a team of 700 people across 35 offices in 12 Indian states.
Mindshare Indonesia has been a journey of deep and systemic transformation. Apart from making a potent brand stronger, he conceived and led the talent incubation, which has brought 30% new talent to media agencies over the last three years.  Driving new thinking with key strategic partnerships in new and old media has also brought him wide acclaims and recognitions.
An advocate of non-traditional thinking, Himanshu has been pivotal in transforming Mindshare into a strong player in the digital and mobile space.
On Sept 5, 2015, Mindshare Indonesia was awarded "The Mobile Agency of the year" at Asia Pacific SMARTIES 2014 (Annual award from Mobile marketing association). This was the first for any agency from Indonesia to win the Agency of the Year award at any regional or global forums of prestige.
Himanshu believes in "Horizontality" (as SIR Martin Sorrell says) and collaborated with WPP agencies to bring WPP STREAM to Indonesia in 2013. It has since become an annual country event. He has also participated in the jury of various country media awards and has been an active participant of AAAI in both India and Indonesia.
A Graduate in Mathematics Honours from BHU (Banaras Hindu University, Varanasi) and MBA in Marketing, he is married and blessed with two sons aged seven and one.
A useful cricketer and badminton enthusiast, he is also a musician trained in Indian classical music.
Follow him on twitter @himanshu29