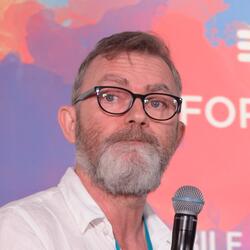 In 1986, Graham graduated with a BSc Honours Degree in Chemistry from the University of Edinburgh. This proved a surprisingly good preparation for his first job in advertising - copywriter for a Dutch business-to-business agency specialising in the chemicals industry.
Realising that doing ads for consumers was a bit more fun than writing for chemical engineers, Graham joined a mainstream Dutch agency that did both advertising and direct marketing.
In 1991, Graham moved to Singapore, joining Ogilvy Direct as a copywriter. He then moved above-the-line with Ogilvy to focus on traditional advertising. Graham's rapid ascent resulted in Executive Creative Director roles at Leo Burnett, then TBWA Singapore.
However, while at Leo Burnett, Graham was bitten by the digital bug. To scratch this itch he joined Ogilvy Interactive in July 2000 as Regional Creative Director, Asia Pacific. Graham oversaw the build-up of the regional network and helped Ogilvy make the transition to digital.
In 2003, he joined Saatchi & Saatchi Singapore as Executive Creative Director. Aside from strengthening the agency's traditional abilities, he launched their digital offering. This was a role he continued in his next agency, BBH Japan.
Graham returned to Singapore in 2007, joining TBWA/Tequila as Executive Creative Director, Singapore and "Creative Integrator" for Asia. On returning from a break from the industry, Graham founded GKIM Pte Ltd: an ideas company specialising in digital marketing. In addition to running GKIM, Graham was national ECD for OgilvyOne India.
After the sale of GKIM, Graham joined Isobar as Regional Executive Creative Director in 2013, leaving the agency in August 2014.
In March 2015, Graham founded Originate: a Creative Consultancy. His key role was Regional Executive Creative Director for Bates CHI & Partners where he oversaw the agency's Asia Pacific network.
In June 2017, Graham  relaunched Originate as a virtual agency. Given his love of mobile, the URL was an easy choice: www.originate.mobi
Creative Recognition
Graham has won lots of shiny advertising awards. His digital work has been awarded at shows such as the Cannes CyberLions, One Show Interactive, Clio Interactive and Communication Arts. Highlights include winning Asia's first One Show Interactive award, and Asia's first Cannes CyberLion.
Graham's print and TV advertising has been awarded at Cannes, Clio, The One Show, D&AD and Communication Arts. He also has a cross-section of all the major direct marketing awards: Caples, Echos and the Asian Direct Marketing awards (where he has won Best of Show twice).
As such, he's one of the few creatives to have achieved international recognition across all media.