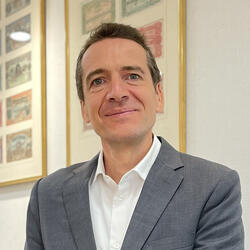 Francois de Maricourt is the President Director of PT Bank HSBC Indonesia. Francois joined HSBC in 1994 and has been appointed in a number of senior leadership roles since his joining the bank. He has more than 25 years of experience in banking spanning across various geographies in Europe, Asia, the Middle East and Africa. His last role was CEO for HSBC Bangladesh since 2014. Francois was also a board member of HSBC Mauritius.
Francois oversees the whole HSBC Group operations in Indonesia that spans over 70 branches and 3500 staff in more than 20 cities.
Francois holds a Post Graduate Degree in Banking and Finance with academic distinction and a Master's Degree in Economics.
Francois is married and has four children.