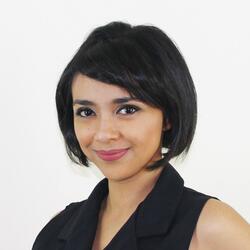 Devi Attamimi
Executive Director of Strategy
Hakuhodo Network Indonesia
@farhanaeldini
Born with a name that derives from happiness, she believes that the purpose of a brand is to make people feel happier about their life. With the power currently in Devi's hand she's determined to foster that energy
16 years of forging skills in the creative industry, she cultivates her interest in human behaviour in the realm of Strategic Planning and passionately sharing her beliefs by becoming an active mentor and jury member in numerous notable creative events and festivals, Young SPIKES Indonesia, Young LIONS Indonesia, Citra Pariwara, Dragons of Asia, Young LOTUS judge and speaker in ADFEST 2016 and her recent gig, speaker in ADFEST 2017. 
She brings her passion throughout her journey with Hakuhodo Indonesia, awarded as the Agency Of The Year 2016 in Citra Pariwara and Campaign Brief.
Another thing that delights her is being the Insitute Director of HILL ASEAN, a think tank that captures and conceptualizes emerging lifestyle in ASEAN countries.