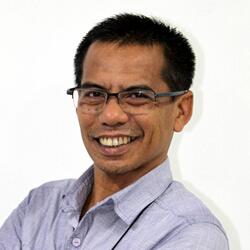 1 Juli 2019
Chief Digital Officer KG Media
October 2018
VP Entertainment News KG Media
July 2017 - Present
Director BolaSport.com
February 2017 - Present
Executive Director Grid.ID
December 2010 – Present 
Director and Editor in Chief TRIBUNnews.com (1th Alexa.com Top Sites in Indonesia (September 8th, 2018), number one in news portal category, published by Group of Regional Newspaper Kompas Gramedia).
VP Entertainment News KG Media (known as Grid Network, formely Gramedia Majalah, Kompas Gramedia).
Responsible for developing strategy in content production, delivering content (social media, search engine optimization), partnership, IT-ecommerce, monetization, and marketing.
Market analyst, create new product, building new team, training, project management and implementation --and wow, monitoring performance, create and implementing new strategies base on data.
September 2013 – September 2016
Deputy Editor in Chief Super Ball
Lead project for reborn Berita Kota (Jakarta's city newspaper focus on crime story) to Super Ball (daily sport newspaper).
Responsible for developing content and design strategy, building team work, and running the Super Ball project.
Develop the cross media strategy, making Super Ball available for print, online, social media, Yahoo News, and Newsstand (Tribun Store on Scoop and Wayang Force).
Super Ball is one of leading daily sport newspaper, published in 20 cities
December 2007 – Present
Editor in chief Tribun Timur (Makassar)
This is the first step, jumping from reporter to top level management, serve as Managing Editor for Tribun Timur before appointed as Editor in Chief. Now, Tribun Timur is market leader in Makassar.
2011 – 2012
Project Leader for Redesign Serambi Indonesia (Aceh)
Responsible for developing content and design strategy. 
September 2010 – February 2014
Editor in Chief Tribun Medan (Medan)
Serve in Project Leader for Tribun Medan as well as Editor in Chief.