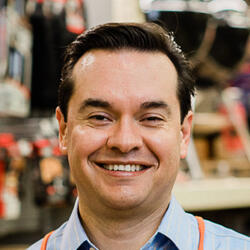 Adolfo Villagomez
Senior Vice President – Online & CMO
Adolfo Villagomez is chief marketing officer and senior vice president of The Home Depot's online business. He is responsible for all digital activities including homedepot.com, an industry-leading e-commerce operation, as well as all marketing and branding activities at The Home Depot.
 
Adolfo joined The Home Depot in 2014 as vice president of merchandising strategy. Since that time, he has led several of the company's core merchandising functions, including Outdoor Power, Garden and Building Materials. His efforts resulted in the successful expansion of exclusive brand relationships, the growth of private brand offerings and the revitalization of the Pro program.
 
Previously, Adolfo worked as a partner at McKinsey & Company and held executive leadership positions at DuPont.
 
Adolfo holds a master's degree in business administration from the Yale School of Management, and a bachelor's degree in chemical engineering from the Universidad Nacional Autónoma de México (National Autonomous University of Mexico).