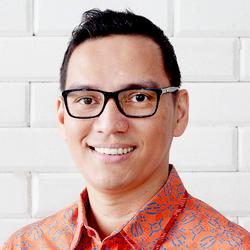 Toni Darusman
Head of Marketing Brand & Communication
@TDarusman
Total 18+ Years in Brand Marketing in Indonesia and Asia (HK and Malaysia), Toni was assigned in various Marketing roles in diversed categories. Started with Sampoerna/Philip Morris where he spent 8 Years from Brand Associate to Marketing Manager, lead Sampoerna kretek brand revamp and worked in Philip Morris Asia in HK for 2 Years as regional Brand Manager. He joined The Coca-Cola Company in Indonesia as Marketing Manager Coke and helped growing the brand equity with various brand activations; building global brand, made locally relevant. After Coke, he Joined Heineken as Marketing Director where he introduced Digital Marketing and premiumnize Heikenen and rejuvenate Bintang Beer as the no.1 beer in Indonesia. He also worked in GSK Asia as Area Marketing Director and then Indosat Ooredoo as VP Marcom before joining Bank Danamon as Chief Marketing Officer in early 2016 until Today. In Danamon, Toni and team are set to rebuild Danamon Bank image, introduce Brand proposition and new activation platform. He believes a great brand is build within with Marketing Inside out approach.
Toni received several recognitions over the past Years. Most recently in Aug 2017, he was voted as Asia's Top50 Brand Leaders by CMO Asia.
Toni finished his PostGraduate studies at Liverpool University, UK. Married with 2Kids. Love to travel around the world seeing new places, trekking, running and watching Football games and MotorRacing.