Subscribe, listen, read & share today!
Need to reduce the white noise but keep up to date on the latest in Mobile? We have all the options that will suit your needs and keep you focused on what you need to know about mobile marketing.
Weekly
Text MMA to 30364
Receive industry news and alerts from the Mobile Marketing Association. Message and data rates may apply. You may receive up to 4 messages per month with news and alerts. Text STOP to cancel. Text HELP for help.*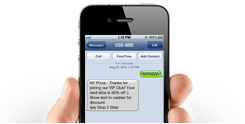 Monthly
Events: Networking, Insight and Best Practice
The MMA delivers the largest series of Global Forums, Summits and Awards Gala's, allowing our global audience of marketers, enablers and sellers to come together in person to learn, evolve and grow. Exceptional event experiences not only create this value for the individual and organization, but for the growth of the entire mobile industry.
*Mobile Privacy Policy and T&Cs: http://www.mmaglobal.com/privacy-policy