Campaign Summary

The Hellmann's/Best Foods 2017 Best Recipe campaign was created as part of the second phase rollout of an Amazon Echo capability, or "skill." The goals of the campaign were to provide utility and inspiration to consumers. In the second phase, the skill would be optimized to incorporate feedback from users about the Echo's conversational design and user experience. A seasonal content module was added as was a direct CRM integration to enable the Echo to acquire real-time customer data, while the seasonal module allowed the Echo to provide customers with recipes that were relevant to the current time of year.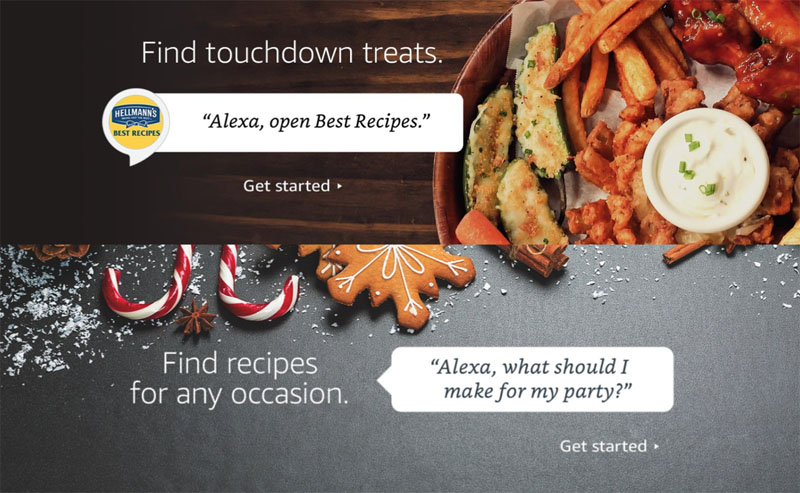 Strategy
Objective and Context:
One-in-five consumers have voice assistants in their homes, so Unilever and Hellmann's/Best Foods identified the opportunity to integrate their brand into those homes. Not only was this an opportunity for the brand to reach consumers but also to be viewed as innovative and at the forefront of technology.
Target Audience:
The target audience for the Hellmann's/Best Foods recipe capability was Amazon Echo and Alexa users who were 18 years or older and were food and cooking enthusiasts. Media targeted Echo look-a-like segments and shoppers in the market for cookbooks or eBooks, baking supplies, snack foods, kitchen supplies (i.e. paper/plastic utensils), and condiments/spreads. Adobe third-party audience segments were also used to target Amazon shoppers through the iHeartRadio digital streaming app, which linked the creative directly to the Alexa app to install the skill.
Creative Strategy:
Through the Amazon Echo, Hellmann's/Best Foods identified a way to get into consumers' homes via organic voice-enabled content that provided utility and culinary inspiration to consumers. Using what was already in their pantries or refrigerators, the Best Recipes skill leveraged Hellmann's/Best Foods position of "owning leftovers" by using technology to curate delicious recipes from a database of ingredients, solving meal challenges for today's home-cooks.
Execution
Overall Campaign Execution:
From a process approach, a voice-enabled branded experience was discovered and enabled via paid media, added-value merchandising on Amazon properties, and organically via the Alexa App. Customers then interacted with the skill and provided ingredients on-hand. Lastly, Alexa sent three recipes from the Hellmann's recipe database to their email.
The media assets and content were developed to be timely and culturally relevant. Hellmann's/Best Foods created a custom content management system that enabled real-time content updates for any season or tent-pole. For example, the marketing team identified "summer grilling" and "Super Bowl party" as cultural events, developed assets around them, and optimized the skill to provide seasonal recipes related to them. Calls to action in paid media and merchandising that were culturally relevant included "Find Touchdown Treats," "Find Recipes for any Occasion," and "Find Thanksgiving Recipes," mirroring the content updates. Alexa's voice commands also adapted with new and seasonally-relevant commands, including "Alexa, what should I make for my party?" and "Alexa, its Turkey Time."
Paid media on mobile featured images of food with strong calls to action that encouraged consumers to enable the Best Recipe skill by linking directly into the Amazon Alexa app. Other calls to action included "Ingredients, but no plan?" and "Make it easy" drove curiosity and users were able to see how the skill could provide utility in their lives.
Given the cross-channel approach Hellmann's took to media support, messaging was featured across all Amazon products. Using audience targeting, the brand was able to reach the right consumers. While placements on Fire TV were effective, they were only available in the home. With the Fire tablet, Amazon app, and Amazon mobile site placements, Hellmann's was able to reach the consumer with awareness messaging while they were on-the-go, consuming content, or making purchases on Amazon. From a creative perspective, mobile assets were developed for run-of-site media on Amazon platforms as well as tablet for Amazon Fire and digital streaming for IHeartRadio.

Mobile Execution:
Given the functionality and the relationship between the Hellmann's Best Recipe skill and email, mobile was a key factor to the program. Fifty-five percent of emails are opened on a mobile device; that said, it is likely that the majority of the media was served via mobile/tablet.
Thirty-five percent of people have the Amazon app on their home screen of their mobile device. Given the strong performance of the skill, Amazon promoted the program via added-value merchandise placements that lived within the Amazon app and online. The placements could be found when consumers were shopping and looking for new skills.
Additionally, media promoting the Hellmann's Best Recipes skill ran across other Amazon devices, including the Fire Tablet. These placements allowed the brand to reach consumers who were already loyal to Amazon products and likely owned an Echo device.
The output from the Best Recipes skill was a recipe email that users could retrieve from their mobile devices. This program was a test-and-learn opportunity for Unilever and Hellmann's as it was their first point of entry into the voice space.
Results (including context, evaluation, and market impact)
The consumer perception of the mayo category was that it could be used for limited and rather unhealthy recipes. With the Best Recipes skill, Hellmann's wanted to inspire people to find more ways to use mayo and bring out the best in real, pleasurable food moments. Hellmann's/Best Foods recognized the need to shift its demographic to a younger audience and identified a tech-centered campaign as a way to implement this shift.
Media support for the skill drove statistically significant lifts across unaided brand awareness for Hellmann's (an increase of 8 percent), skill-brand association (an increase of 7 percent), and intent (an increase of 12 percent) for adults 18 years and older. Lifts outpaced CPG market benchmarks.
The skill was listed as a "Top 50 Most Useful" skill on the Alexa platform (out of over 30,000) by CNET, beating out Allrecipes, Food Network, Campbell's, and the newly-launched Betty Crocker skill.
Amazon recognized the value of the skill and the agility of the campaign so that content could be adjusted for any event. The skill has collected over 35,000 emails at very low cost per acquisition. The Best Recipes skill has provided the basis for a broad learning agenda within the voice category at Unilever that is being implemented across other brands.