Campaign Summary
To stand out, Pringles created a new limited-edition flavor in a partnership with Wendy's called Pringles Baconator flavored crisps. It tasted just like its namesake, Wendy's Baconator burger, its most popular menu item.
Strategy
Objective:
In a competitive category, Pringles' sales were lagging behind the competition. Hovering at a 3.4 percent dollar share, the brand was far behind the market leader, Lay's (13 percent), trailing behind Cheetos (6.7 percent), and playing catchup to Ruffles (4.1 percent). The competitions' bolder approach in terms of products (think Flamin' hot) and culturally relevant campaigns (Ruffles signing NBA star Anthony Davis) were winning over Millennials — a big and extremely lucrative market for the category.
Pringles had a clear opportunity with these young adult salty snackers. However, Pringles was barely on their radar. The last time young adults felt any type of way about Pringles was when their moms packed a small can in their school lunches when they were kids.
When it comes to snacking, young adults crave big, bold flavors, and are drawn to communications that reflect it and show up in culture in a big way. Unfortunately, Pringles was nowhere to be seen. To stand out, Pringles created a new limited-edition flavor in a partnership with Wendy's called Pringles Baconator flavored crisps. It tasted just like its namesake, Wendy's Baconator burger, its most popular menu item.
The company needed to bring in new buyers — young adult chip-lovers — driving purchase intent and sales of Pringles Baconator. Its pre- vs. post-purchase intent goal was four times more (in-line with upper end of benchmark). This limited-edition flavor would not be around long, so the company needed to help Pringles breakthrough in an unexpected way and push people to talk about Pringles Baconator if it had any chance of achieving its goal.
Target Audience:
Pringles Baconator was created with young adult snackers in mind. They love to try new, interesting treats their friends have not tried, especially if they bring big flavors. They are quick to proudly share their unexpected discoveries with others.
Young adults LOVE weird food combinations. While some combinations are quirky like pizza and ranch dressing, others are classics like peanut butter and banana. The most popular weird food combo is dipping French fries into chocolate milkshakes; at the center of this phenomenon is Wendy's and their Frosty. Of course, they also love to share weird food combinations on social media.
Creative Strategy:
It may seem odd at first, but there is something about dipping fresh hot fries from Wendy's into a thick Frosty that everyone loves. In fact, a survey of 2,000 American adults showed that dipping fries in a chocolate milkshake or Frosty was the No.1 most popular weird food combination.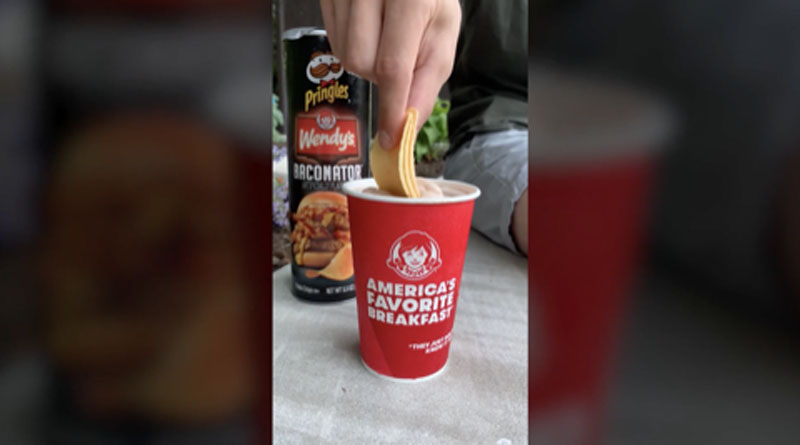 The survey reported that one of the top places people learn about weird food combos is social media — and three out of four are proud to share their unexpected food mashups with others.
The company's thought was to dip into both behaviors, weird food combos & sharing them, to bring a winning strategy to Pringles.
Since young adults are not holding back when it comes to creating surprising food pairings, the company set out to challenge the extreme lengths they would be willing to go to satisfy their cravings. Since Wendy's most famous item, the Baconator, is not dippable, the idea was to introduce the Dippable Baconator to America and show people that the most delicious way to eat Baconator Pringles was by dipping them in a Frosty.
Context:
Historically, Pringles has seen success in limited-time flavors, as the sense of scarcity generates consumer excitement and sales growth. However, Pringles had never before ventured into a limited time offer flavor in partnership with a national QSR.
Only Pringles has the capability of flavor matching one of America's favorite menu offerings in a crisp format. Bringing the insanely accurate flavor of the Baconator to the snack aisle was a new food form that allowed for the unique consumer experience of truly dipping a Baconator into a Frosty.
Execution
Overall Campaign Execution:
Inspired by dipping, the company first dipped into Wendy's massive social influence to kick things off and seed the relationship between Pringles and Wendy's. The company, as such, created banter between the two brands on Twitter to capture the attention of a younger adult snacker audience. Pringles then took a dip into millennials' social media day, partnering with the increasingly popular platform TikTok.
Its one-day 100 percent takeover was a dip you could not resist, as every TikToker who opened their app that day saw our Pringles Baconator message. The company double-dipped with TikTok by also showing fans how to create the Dippable Baconator on their own through creative that felt native to the platform — encouraging everyone to take a dip with "I dip. You dip. We dip." copy accompanying the video. This approach built excitement and awareness of our new Pringles Baconator flavor.
But the company could not just show Americans that the most delicious way to eat Baconator Pringles was by dipping them in a Frosty; it had to get Dippable Baconator into their hands. To do this, the company created a first-ever CPG and QSR delivery collaboration with Fooji, where people tweeting #DippableBaconator + Ice Cream Emoji had Baconator Pringles and a Frosty delivered right to their door in a custom insulated bag.
To further extend this message, unique custom content was served across social channels, working with Tastemade and BuzzFeed. As a final PR garnish, the company got Dippable Baconators in the hands of traditional influencers the company knew would ignite its target audience to share out their own experience with the snack on their social channels.
Mobile Execution:
Mobile execution was a critically important and integral component of the campaign to reach the young adult millennial audience where they spend most of their time. Using mobile, the company could naturally interweave, announce, and build excitement for its dippable Pringles Baconator in a big way across all their social platforms and mobile browsing.
From the initial Pringles/Wendy banter on Twitter to custom partnership content (BuzzFeed, Tastemade), to the viral user-generated content and influencer content on TikTok, all the way to mobile web and in-app high-impact interactive creative, the company surrounded the consumer across their mobile media consumption.
This effort even extended its high-impact mobile executions in grocery stores by leveraging first party location-based and behavioral data to target relevant users encouraging purchase of Baconator Pringles. While mobile was a core strategy, delivery activation and influencers (PR) were leveraged to ensure the Dippable Baconator message was experienced and amplified.
Business Impact (including context, evaluation, and market impact)
The pandemic accelerated the growth of snacking. Distraction and boredom, key snacking drivers, have become more prominent, especially among the company's core target. Sixty-four percent of younger adults stated that during the pandemic they have been eating more small snacks throughout the day.
That said, the Pringles Baconator launch occurred during summer 2020 when Lays, the outright category leader, blasted the airwaves with a release of its own limited batch of chips: Flavor Icons.
This new line was inspired by dishes served at restaurants across the U.S. such as Lay's Nashville Hot Chicken, inspired by Party Fowl in Nashville. Breaking through would be difficult as Pringles historically has had much smaller budgets than competitors like Lay's.
By giving this food combo phenomenon a unique Pringles spin and getting it directly into the hands and mouths of young adults, we helped the brand exceed its goals. The company drove fans in-store to purchase, exceeding the sales goal by 25 percent. Looking at pre-post campaign engagement, Pringles Baconator purchase intent lift exceeded the purchase intent lift benchmark.
The Fooji Activation delivered 600 Dippable Baconator kits, drove buzz and garnered 5,800 fan engagements. People shared their dipping videos across social, gaining over 25,000 hashtag mentions and over five million views. Within hours, Dippable Baconator became a trending topic worldwide.
In addition, the TikTok takeover crashed Kellogg's site with high traffic of six million unique visitors to Pringles.com. Moreover, #DippableBaconator drove 1.7 billion social impressions with 100 percent positive sentiment.
These strong sales results fueled momentum for Pringles to partner with Wendy's again for another flavor mash-up. Dippable Baconator made a splash and had people talking. During key summer months, Pringles drove more social volume than competitors Lays and Ruffles combined.
To make sure the company got dippable Baconator into people's hands, it partnered with Fooji to deliver dippable Baconators in four key markets in a first-ever CPG and QSR delivery collaboration on Fooji.
This innovation was created with some heavy lifting and strong coordination between Pringles, Wendy's, the agencies, and local Wendy's stores to ensure that the folks who tweeted #DippableBaconator and ice cream emoji received a very, very cold Frosty along with their Pringles Baconator crisps delivered right to their door for the perfect dippable Baconator experience.