Campaign Summary
GoMart provides online grocery and delivery services. GoMart launched a new feature and partnered with a leading Indonesian retailer, Lottemart. The feature introduces personal shoppers to pick up the best quality produce and products to its customers, in the pandemic era.
Strategy
Objective:
With hyperlocal targeted awareness building with sales conversion attribution in mind, GoScreen partnered with GoMart. What was unique to this campaign was GoScreen, the ability to hyperlocal target users within a 10-mile radius of a local Lottemart.
Target Audience:
The brief provided by GoMart for the intended target audience was for tech-savvy, working millennials, who would pay for convenience. The majority of the target market lives in urban areas who shop on a weekly basis with a small-to-medium basket size (which is five to 10 items per check out). The target audience was also specific for people who are within a 10-mile radius of all Lottemart stores across Jabodetabek.
Creative Strategy:
The target market was already segmented to young professionals who have high mobility and are already used to doing offline shopping to top up their weekly groceries. However, they feel that doing mundane chores takes a lot of their free time and prefer to be able to do online shopping instead.They feel that groceries online shopping is complex and requires expertise to curate the goods. GoMart sees the need in the market and launches the personal shoppers feature as part of the online shopping experience.
Hence, the media plan focused on digital channels, including digital out-of-home (GoScreen) platforms. The ad placement in GoScreen's main goal is to directly reach GoMart's intended demographic users, the people who are within Lottemart's radius and spend plenty of their time in the street.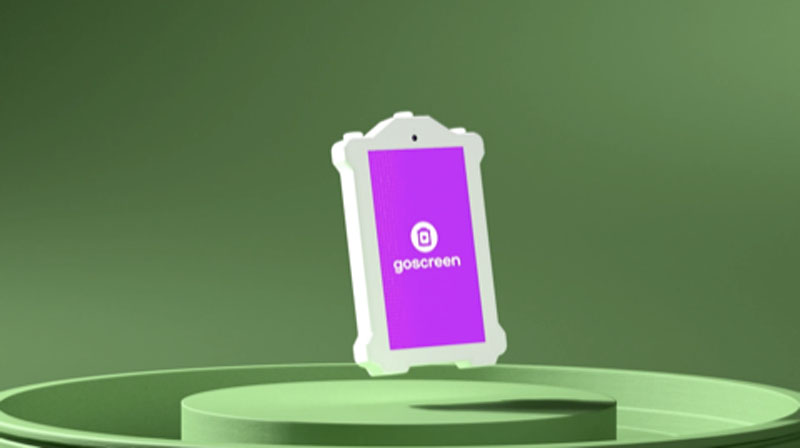 Context:
This was the first campaign to introduce new product and adapt new technology through GoScreen to do hyperlocal targeted out-of-home media placement within 10 miles from Lottemart. The campaign also focused on retargeting all Gojek users who were exposed to the ads with push notifications and vouchers to increase and track offline to online behavior.
Execution
Overall Campaign Execution:
In today's mobile-first society, people spend most of their time outside the home. People are empowered to make decisions on the move with mobile devices. GoMart's campaign objective to target audiences based on location and demographics is possible with GoScreen technology.
GoScreen's advantages against the traditional out-of-home advertising platform is the real-time programming of ads based on location, demographics, or events which tremendously increases O2O (Offline to Online) conversion and ROI for each campaign.
The GoMart's team decided the targeted areas around Lottemart to play the advertisements. The next steps were for the GoScreen's team to identify users who had been exposed to the advertisement in GoScreen and optimize the offline to online conversion by retargeting the users with in-app push notifications and redeemable vouchers.
This is the first time GoMart was able to measure offline to online sales from an out of home advertising platform. All the trackable performance metrics and distinct identification of each MAC address and Gojek user IDs were made possible with GoScreen enabling technologies in partnership with SIMO and Aikaan.
Using the latest Mediatek's smartphone SoC platform to design GoScreen devices, SIMO offers unparalleled development resources for Gojek IoT embedded applications, leveraging a rich Android framework and advanced AI processing capabilities . Hyperlocal targeting was made possible with Aikaan's IoT Edge Controller and network triangulation from SIMO at any given location.
Business Impact (including context, evaluation, and market impact)
Out-of-home advertising was used to build awareness without knowing the performance and how the investment would lead to conversion.
The campaign successfully achieved the intended target to gain an uplift of 20 percent of new users through GoScreen and drive conversion for offline to online in-app purchase. GoMart was utilizing GoScreen as part of the Gojek ecosystem to do retargeting and close the sales loop.
Advertising placement in GoScreen was able to deliver 22 million impressions and reach 6.5 million unique audiences. From 6.5 unique audiences, 1.07 million were Gojek users and effectively able to attract 262,000 traffic to the app and 14,900 completed orders.
Out of the 14,900 completed orders, 41 percent were new users who were exposed to the ads prior to the purchase. The key innovation that was utilized in this campaign was the implementation of the first-ever programmatic enabled digital out-of-home (DOOH) screens to do hyperlocal location-based targeting and retarget the unique audiences back to the app purchase.
The creatives were changed programmatically via the GoScreen ad server as and when required, and the audience data was streamed in high frequency batches to GoScreen analytics using the inbuilt vSIM technology in GoScreen.