Campaign Summary
Tadım, Turkey's leading packaged nuts and dried fruits brand, had the main communication objective of increasing its online sales by 200 percent on sales partners' online shops with a very limited media budget in 2020.
Strategy
Objective:
As Tadım did not have its own online shop, the brand had limited access to sales data generated on other sales partners (Getir, Banabi, and İstegelsin) online shops. The first goal was to generate first party data and use it to reach the communication objective. As such, Tadim developed an approach as an intermediate solution and built a new content platform, and subsequently used it to offer consumers products and campaigns which are more relevant and personalized.
Target Audience:
Almost all Tadım products' target audience definitions were representative of the same group of people. The target audience focused on people over the age of 18 who live in urban cities. This definition was not adequate to reach the goal — so Tadim developed an approach to get to know Tadım users better by analyzing their "online experiences" and turn them into potential customers.
Creative Strategy:
Tadim built a new content platform and positioned it as the main amplifier of Tadım's first party data hub. At first, Tadim created affinity audiences by their lifestyle, interests, and consumption patterns. A matrix structure was built as a juncture of these segments and products. Different content occasions fit into this matrix. A content platform with a matrix structure representing users' lifestyle and interest was created.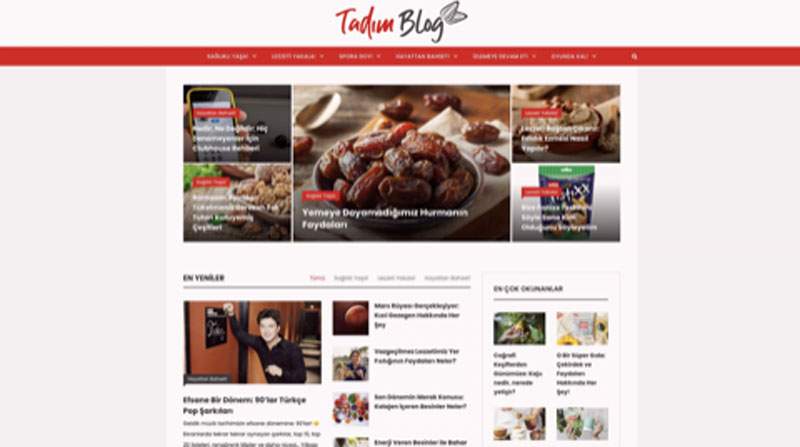 In addition, Tadim analyzed the content consumption patterns of the visitors and combined the user experience data with product consumption and demographic data, then transformed the anonymous data into an "Enriched Customer View" and utilized it in performance marketing campaigns.
Context:
Tadım products had already been sold on these selected sales partners' (Getir, Banabi, and İstegelsin) online shops. Data generated from content consumption patterns was used as part of the performance marketing channel strategy. As a result of amplifying data by interest segments, sales and ROI were increased when compared to the period in which this strategy was not live.
Execution
Overall Campaign Execution:
Products and campaigns were offered based on these new user segments generated over the content platform via performance marketing channels. Customers were targeted with the right product and message, then directed to online sales platforms like Getir, Banabi, and İstegelsin.
Campaigns were also managed dynamically in terms of stock control and location data, representing where sales partners operated geographically. Importantly, a 95 percent share of total media budget was allocated to mobile.
Mobile Execution:
Mobile was at the center of the campaign. Tadım products were sold on online market mobile applications, so the entire performance marketing strategy was built on utilizing customer data on mobile advertising.
Business Impact (including context, evaluation, and market impact)
Tadım didn't have an online shop during this campaign period. Its products were sold on sales' partners online shopping applications instead. As a result, Tadim had limited access to the data that is generated on the shopping platforms.
Competition over those platforms was getting tougher because of accelerated online shopping during the pandemic. The brand's customer data was limited. The strategic approach was to find a solution to understand customers better.
Online revenue grew by 342 percent on sales partners' online shopping apps; the brand saw a 274 percent increase on Getir, a 599 percent increase on Banabi, and a 866 percent increase on İstegelsin. In addition to interest-based user data, Tadim also utilized mobile location data to direct users to the adequate shopping app, matching it with the cities in which they operate.