Campaign Summary
With the pandemic not yet completely under control, Lifebuoy posed a challenge for the public to maintain good hygiene practice.
Strategy
Objective:
The year 2020 had been turned upside down for all Vietnamese people due to COVID-19. And with 2021 Lunar New Year around the corner, the entire nation was looking forward to a new beginning, hoping for a peaceful year ahead.
Lunar New Year always holds a special place in the Vietnamese culture and needs to be fully prepared. As such, consumers will go to markets, relatives' houses, and gatherings in big crowds.
With the pandemic not yet completely under control, Lifebuoy posed a challenge for the public to maintain good hygiene practice. Consumers, after one year listening to continuous warnings and precautions of hygiene, were now having "hygiene fatigue." They started to loosen up and let their guard down regarding necessary hygiene practice, such as washing their hands less frequently, only washing with water, or not washing their hands at all.
Target Audience:
Lifebuoy, in order to advocate for "hygiene on the go," rolled out a portable hand sanitizer product; this way, consumers could maintain their hand hygiene on all occasions. What Lifebuoy needed to accomplish was to educate consumers about the importance of always having hand sanitizer with them.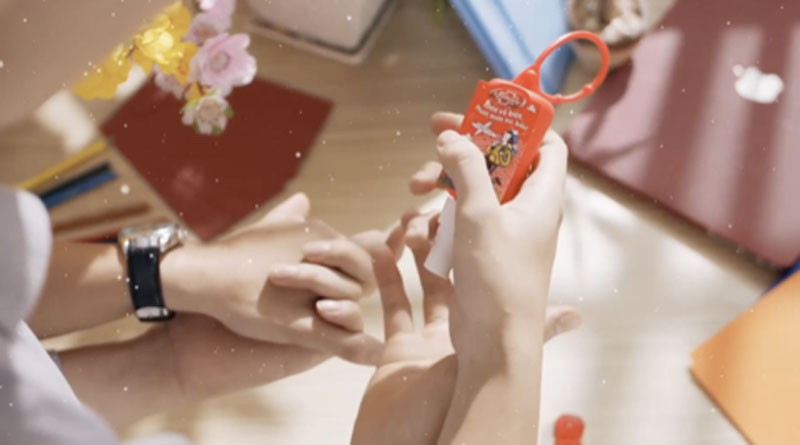 Creative Strategy:
The hands of consumers had been through so much in the past year. Office workers had to balance working from home with their kids, while food establishment owners had to cook and deliver under a severe lockdown situation. After a long year of experiencing hardship, Vietnamese people, on the night of New Year's Eve, placed their hands together and prayed for a brighter tomorrow and for better things to come.
Many plans were put on hold in 2020. Gatherings with friends and families were canceled, and celebrations were delayed. As such, the New Year would hold even greater meaning, as it symbolized the utmost hope people were looking forward to in 2021. Yet, Lifebuoy wanted to remind its consumers that staying healthy was still essential, and it starts with having clean hands.
2020 also saw the rise of interactive camera filters across social platforms, dominated by Facebook. Time spent on social media tripled versus last year among the young age group of 18 to 34-year-olds. The usage of camera filters increased significantly as they needed a mean to stay entertained.
Context:
Lifebuoy's objectives and campaign ideas, in conjunction with the consumer insights, were to:
Tap into the desires of Vietnamese culture during New Year and leverage these contexts to relevantly remind consumers to wash their hands more often, especially on the go.
Bring a more light-hearted, optimistic spin into 2021's praying rituals to make the brand more appealing towards the younger community, through technologically-enhanced interaction on social media.
Drive both awareness and sales for the newly launched portable sanitizer. Land the product in the most thematic occasion of the year and make the product a meaningful and personalized item with various options for the sanitizer hanging jacket — this, in turn, would boost purchase intent.
Support the families in need of hygiene products.
Execution
Overall Campaign Execution:
Lifebuoy launched the campaign "Every Prayer Starts with a Clean Pair of Hands" to remind consumers that whatever they wish for in the New Year, they should stay healthy first by washing their hands more often.
In partnership with BuzzMetrics, the most powerful social listening tool in the market, Lifebuoy was able to highlight the most common and popular prayers that consumers shared on Facebook in the previous years. The prayers centered around health, wealth, love, travel, and family well-being. These five buckets of context provided a huge opportunity for the brand to accelerate its messages and product offers in the most meaningful way.
Every prayer could be demonstrated with a hand gesture when taking a picture. For instance, a "love" wish is usually symbolized with the thumb and index finger crossed to form a heart shape, while "health" can be demonstrated with a fist bump, "travel" can be showcased with the "rock n' roll" gesture, and "family well-being" can be showcased with the "OK" hand sign.
To capture this visual connection, Lifebuoy partnered with Facebook and developed an AR Camera filter that could detect users' hand motion and gestures and allow users to share their prayers using only their hand. Every hand gesture came with a series of customized message that catered to the young community.
For example, when the users tried on the filter and made a heart shape with their thumb and index finger, the gesture was detected and the message offered clever reminders like, "Love will come, but you will faint before it arrives if you don't have good health."
Mobile Execution:
With the five prayers being activated on the AR camera filter, Lifebuoy also launched five sanitizer hanging jackets with the accompanying themes for health, wealth, love, travel, and family well-being. Each hand gesture detected through the AR filter directed users to the e-commerce site, where they were able to find the matching hand sanitizer jacket with their wish to purchase.
Business Impact (including context, evaluation, and market impact)
The campaign created tremendous impact within a short time span of launching.
Lifebuoy's Praying AR filter reached over 20 million families and inspired more than 130,000 users to share their prayers.
The engagement rate was 16 times higher than the industry benchmark.
Within two weeks of launching, the jacket collection was sold out across e-commerce partners, and over 10,000 hygiene kits were donated to families in need.
Market share reached an all-time high of 87 percent.