Campaign Summary
Every three seconds around the world, a woman is forced into marriage. In Western cultures the facts are hidden, not unlike the same veiled women who are basically sold into slavery and bound to a man they do not love and a life they did not request.  
Using a traditional place (the Hohenzollern Bridge in Cologne) that many Germans frequent to express their love to one another, the "Free the Forced" campaign used familiarity and clever visualization through a tactile medium to attract users and raise awareness through mobile devices.
Strategy and Execution
The United Nations Association of Germany highlighted a taboo topic in a spot where most people take their freedom of choice for granted: the Hohenzollern Bridge.
Since 2008, people have placed love padlocks — or love locks — on the fence of the bridge to symbolize their love. Typically, the sweethearts' names are written on the padlock while the key is thrown away, thus enforcing the idea of an unbreakable love.

To break the silence and raise awareness of forced/arranged marriages, 3,500 custom-made blue padlocks were affixed to the Hohenzollern Bridge, spelling out the words "Free the Forced."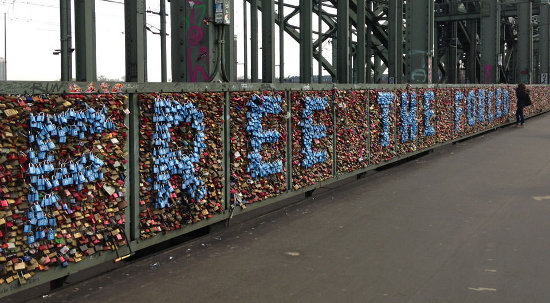 On each of the locks, a QR code was available for passersby to scan with their mobile and make a donation via Paypal. Donators then received a number code to unlock the padlock and symbolically free a future, unwilling, and indebted woman from a life of matrimonial slavery.

By using an eye-catching approach in such a popular destination, the United Nations Association of Germany was able to stir the pot and bring attention to an issue that many people who visited the popular bridge might never have even thought twice about.
Results
In just three days, approximately 470,000 people visited the Hohenzollern Bridge, unlocking nearly all of the blue padlocks. In addition:
More than 570,000 unique visitors talked about "Free the Forced" and shared their pictures of the bridge on Facebook, Twitter, Instagram, and Flickr.


Activity on the United Nations Association of Germany Facebook page increased by 400 percent.


The traditional media was also very interested in the campaign: media reach came to a total of 5.3 million people in the first three days alone.
Reach is not just indicative of how far you go, but also, and even more importantly, how deep you go. With the "Free the Forced" campaign, the United Nations Association of Germany reached millions of people deep in their hearts, and helped women around the world see another life where the path leads to their dreams and not to their nightmares.