Campaign Summary
The strategic objective of the High Heels! Play With Pride Collection was to debut the Kenneth Cole PRIDE 2021 collection in the hit hyper-casual game High Heels! This collaboration marked the first time that Kenneth Cole's iconic street-smart style will be featured in a mobile game.
For the first two weeks of June, gamers were able to play with pride as they outfitted their character and strutted the virtual runway in products from the Kenneth Cole PRIDE 2021 collection, including the brand's iconic KAM sneakers, shirts that proudly stated, "Being Different is What We Have in Common" and other accessories such as sunglasses, watches and mask lanyards.
Strategy
Objective:
The campaign was launched globally to audiences of all demographics and backgrounds. From a press perspective, the campaign amassed a global audience of 760,996,716 and the publicity coverage amounted to $80,170,470.
Target Audience:
Developed by Rollic, a subsidiary of Zynga, High Heels! has been downloaded over 60 million times and has been enthusiastically received all around the world. The game reached the No.1 spot on the App Store and on Google Play and went viral on TikTok.
The campaign reached Zynga's broad gaming community, as well as audiences on TikTok who praised the game for its inclusivity and authenticity. The audiences included gamers of all ages and backgrounds.
Creative Strategy:
Kenneth Cole promoted its line of products in the game and allowed players to maneuver an increasingly challenging catwalk in Kenneth Cole products, which stacked higher as they complete levels. The stakes would rise as players progressed through a series of worldwide fashion shows in global cities including London, Beijing, Paris, and New York.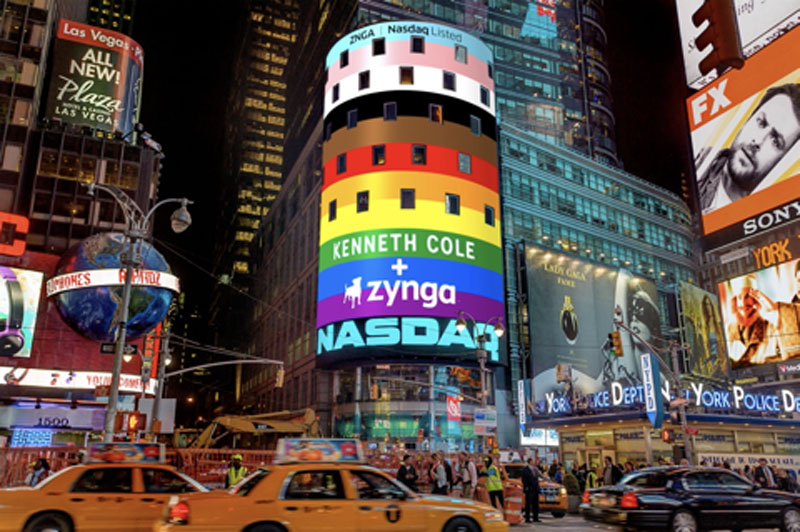 Earning access to new customization elements as they advanced, players were able to update their character with new Kenneth Cole Pride Collection clothing, fashion, hairstyles, and shoes. The company launched the campaign globally and leveraged electronic press kits (EPKs) and. Kenneth Cole was able to get over 500 articles and outlets to cover the story.
Context:
The virality of High Heels! on TikTok allowed the brand to reach a broader audience of players who praised the campaign for its inclusivity and authenticity.
Execution
Overall Campaign Execution:
Currently, TikTok does not have a platform for gaming. However, High Heels! was the first game to go viral on the social platform, with players showing themselves playing the game. As such, Kenneth Cole was able to catch an untapped audience base on the social platform that allowed the brand to market the Kenneth Cole Pride Collection campaign. Moreover, since this was the first time that Kenneth Cole was featured in a mobile game, the brand was able to garner meaningful earned media for the campaign.
Mobile Execution:
The company was able to leverage Zynga's first party data to advertise the campaign through mobile gaming apps. Moreover, influencers and players around the globe showed the campaign off on social platforms including TikTok.
Business Impact (including context, evaluation, and market impact)
This was the first time Kenneth Cole marketed a campaign on a mobile gaming platform. At Kenneth Cole, there has always been a rich history of supporting public health and civil liberties. For almost 40 years, the brand has nurtured and maintained a global culture of equity and inclusion. For its latest initiative, in recognition of Pride, Kenneth Cole partnered with Zynga to further highlight the importance of inclusion and acceptance.
High Heels! remained as the No.1 and No.2 game around the world respectively on the AppStore and Google Play. Media reached a global audience of 760,996,716, and publicity coverage amounted to $80,170,470.
As a result of the campaign, the company was able to push both Kenneth Cole's Pride Collection and also create awareness to Zynga's vast network of hyper casual games.