Campaign Summary
Bank of Montreal Financial Group appealed to millennials with a message of inclusivity trumpeted by Priyanka, the winner of RuPaul's Drag Race in Canada.
Strategy
Objective:
The Bank of Montreal Financial Group (BMO) was about to launch one of the biggest product innovations in its history: the BMO Eclipse VISA Infinite card — a unique card specifically designed to provide reward points for spending in categories relevant to urban millennials, including rideshares, coffee, takeout, gas, and groceries.
Ranking near the bottom of the Canadian banking industry's "top five," the banking underdog BMO needed to win over millennials and significantly boost purchase intent and acquisitions with this target audience. It was an important moment for BMO to stand out as a brand.
One problem: millennials are skeptical of advertising — especially advertising from banks. In addition, most millennials just don't see any difference between big bank brands.
BMO's business goals were to drive purchase intent and new card acquisitions.
Target Audience:
To achieve its aggressive goals, BMO needed to differentiate itself from the banking "sea-of-sameness" in millennials' eyes.
Many millennials feel that their lives and values are excluded from the traditional banking narrative in advertising. There's nothing new for them to relate to, so they simply disengage.
More than any generation before, millennials are interested in partnership, transparency, and authenticity when choosing a product or service. Indeed, 42 percent of millennials will make or break their relationship with a brand based on its corporate ethics or social stance, according to Deloitte's 2021 Millennial Survey.
BMO's strategy was based on this key audience insight. The brand had to take a stance to gain the trust and confidence of this all-important target audience.
Creative Strategy:
How do you reach jaded millennials tired of being told the same clichéd stories about banking?
You flip the script. And let them do the talking.
Instead of just telling BMO's story, the company used the campaign to tell the full breadth of millennials' stories. BMO chose a fresh, new voice as its charismatic lead among a chorus of influencers: Priyanka, the winner of RuPaul's Drag Race in Canada.
And where would BMO share those stories? On mobile, of course. Millennials' devoted use of their mobile devices to communicate, share content, inform, and entertain themselves is legendary: a whopping two-thirds of millennials are constantly connected to their phone.
However, it's not enough to simply invest in mobile; you have to design brilliantly for it. BMO drove outstanding success through a unique, industry-first, mobile content and distribution strategy that celebrated millennials' core values of inclusion and diversity. The brand leveraged authentic voices, driving relevance at every moment of connection.
This went way beyond just "ticking a box." BMO seized the opportunity to meaningfully engage with millennials and align them with its brand purpose: to "Boldly Grow the Good" in business and life.
It was a brand-new approach to Canadian banking. BMO set out to connect with millennials in a unique and unexpected way: the company would celebrate BMO's commitment to positive change and inclusivity, while showcasing the relevance of BMO's new card to their lives.
Context:
For BMO's audience, the always-in-motion, socially conscious millennial, their phone is their lifeline. This dependence was heightened during the COVID-19 lockdown, which was particularly severe in Canada, where their phones were often their sole connection to the world. When planning to launch BMO's new credit card to this audience, conquering mobile was to be critical.
Execution
Overall Campaign Execution:
Beyond smart mobile targeting of millennials, BMO's unique focus on mobile allowed the organization to engage in an open and authentic conversation with its audience across video, social, search, and mobile apps.
The overall campaign approach was anchored on driving relevant reach.
Precision targeting underpinned everything, leveraging first- and third-party data signals. This approach allowed BMO to reach qualified audiences — since this premium card had an income qualifier — and nimbly address strict policies limiting targeting for credit cards.
Yet, BMO knew data signals would only be as strong as the messaging deployed against them.
So, rallying around Priyanka and a platform of inclusion, self-expression, and personalization, BMO created 281 pieces of mobile-optimized video via YouTube Director's Mix. This was one of the first times globally that influencer-anchored content was used this way. BMO accelerated this mass push to market by specifically leveraging each of the card's reward categories (restaurants, ridesharing, etc.) and then creating dedicated visuals and copy personalized to hundreds of the most relevant moments of connection.
Mobile Execution:
In pursuit of diverse representation at every step of the journey, BMO deepened engagement across additional mobile touchpoints, launching compelling influencer-driven formats on Facebook, Instagram, and Twitter.
Then BMO took mobile engagement to the next level and launched compelling influencer stories to drive personal connection and relevance. Building on Priyanka's dynamic presence, BMO expanded relevant reach and drove credibility through a host of diverse influencers, including Montreal personality Valérie Roberts and fashion blogger Ashkan Hobian.
Featuring Priyanka, BMO effectively pulled millennials into the brand's story through Facebook Instant Experience Ads and boosted interaction through innovative Instagram Polls and highly engaging GIFs of Priyanka throughout Instagram and Twitter.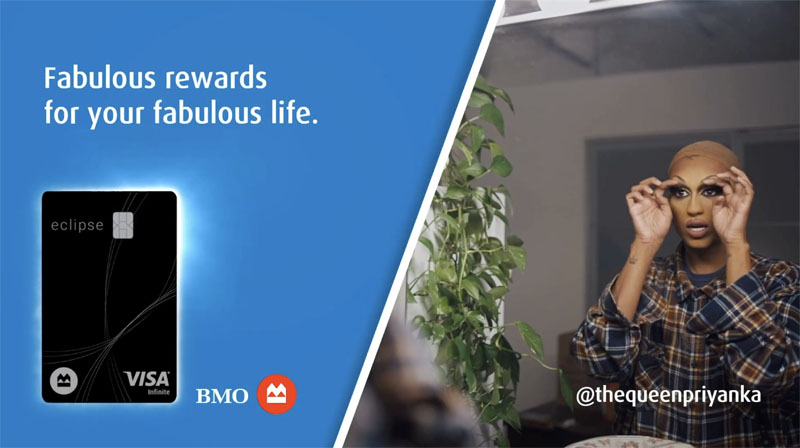 Critically, from a call-to-action perspective, BMO also removed purchase friction from the card-application process, transforming mobile media touchpoints into key conversion moments. For example, the company embedded innovative "apply now" buttons directly into ad units at key points across millennials' purchase journey.
With paid search, BMO deployed an innovative twist. Contrary to conventional support for credit card queries, the brand identified millennials when they were indirectly searching within "earn" categories — like "best restaurant" near me — and served matching creative ads with innovative image extensions. This approach transformed the monotony of paid search into a personalized native ad and delivered product relevance at the moment of intent.
Finally, for those using food delivery and rideshare apps or who were in proximity to key points of interaction (grocery and gas), BMO created custom interstitials designed to surprise and delight millennial card prospects actively going about their day-to-day activities.
Business Impact (including context, evaluation, and market impact)
The campaign drove exceptional growth despite major credit card category headwinds: demand was in sharp decline since the onset of COVID-19, with category search volume declining 32 percent in the 10 months prior to launch.
In fact, BMO was the only major financial institution in Canada to increase its share of search during this time – which was directly correlated to the campaign.
It was no small feat that this campaign, centered on the pillars of inclusion and personalization, not only powered BMO's fight against significant macroeconomic barriers, but also increased BMO's category share in a highly unfavorable environment. BMO's unique, mobile-first campaign drove outstanding business results, far surpassing goals.
By speaking with a voice anchored in inclusivity and successfully driving relevant reach, BMO drove 142 percent growth in overall BMO year-over-year card sales.
In a category in which campaigns typically result in only marginal shifts in consumer response, the impact was impressive. The campaign:
Drove total card applications up 353 percent versus the previous period across all card products — a testament to the powerful halo-effect of the campaign on the brand
Boosted BMO purchase intent by 4.1 percent
Increased ad recall by 29 percent, a best-in-class performance for the financial institutions vertical, three times higher than norms
Generated a 650 percent lift in total uniques to BMO's website
Finally, while boosting short-term sales was critical, BMO also created a foundation for long-term acquisition, building a massive pool of prospects for sustainable remarketing to drive impact beyond the campaign window.