Campaign Summary
Native apps have lost market share in China in the past few years, as increasingly users have preferred to engage with brands on WeChat and more recently on Mini Programs (MPs) specifically. MPs are the app-like experience offered by WeChat that have removed the need to go to an app store to download an app.
Sephora has prided itself on being on the leading edge of technology in China and as a result launched its own MP in 2018, to sit alongside its existing mobile interfaces. The objectives for this new channel in 2020 were to improve MP channel share and grow MP contribution to total sales in 2020 versus 2019.
Strategy
Objective and Context:
This is the third year that the MP e-commerce platform has been running. However, Sephora's strategy for the platform had to be drastically re-thought in early 2020, due to the sudden disruption from COVID-19.
The pandemic led to users to spend 70 percent more time on their mobile devices; additionally, 54 percent of users watched more streaming content, according to GlobalWebIndex's COVID-19 Multi Market study in July 2020.
How could Sephora adapt its strategy to reflect this evolution in consumer behavior? A solution to this challenge appeared when Tencent made live-streaming technology available on WeChat. This allowed Sephora to leverage its community of key opinion leaders (KOLs) and famous makeup artists to make live-streaming content available to users on its MP.
Target Audience:
As one might expect, Sephora's target audience skews heavily towards the female demographic between the ages of 18 and 40, residing in major metros. This target has been defined through profiling of the existing user base.
The MP was a new addition to Sephora's sales channels, where it offers an alternative engagement platform to both the native app and the .com site.
Creative Strategy:
The creative strategy was driven by the need to provide users with sought-after content, as users found themselves with more time on their mobile devices as a direct result of the pandemic.
Execution
Overall Campaign Execution:
The technological evolution that made live-streaming available on WeChat underpinned the entire campaign. The investment needed to make this technology available to users was covered as part of the ongoing annual MP platform enhancement production budget.
Once added, the new feature allowed users to access a schedule of upcoming live-streaming content on the Sephora MP. Users would receive a notification just before any selected stream started.
During the product intro stream, users could join Q&As, as well as link directly to the product detail page (PDP) to purchase.
Mobile Execution:
Owned media was used as the main channels for communicating the platform enhancement. As all existing users of the platform had an existing relationship with Sephora, this was the most efficient channel.
Broadcasts from Sephora's WeChat Official Account were the primary form of communication. It served to both communicate the new feature to users and to provide updates on upcoming live-streaming content.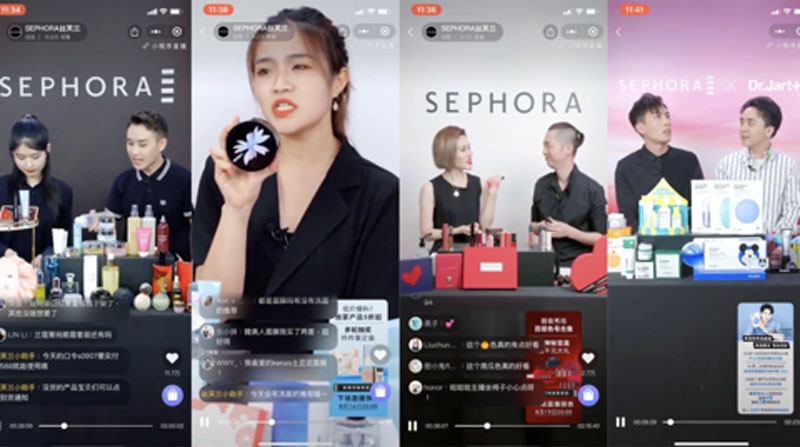 Results (including context, evaluation, and market impact)
The program in 2020 far and away exceeded the strategic objectives. A comparison of like-for-like campaign periods from 2019 to 2020 found that the MP channel share more than doubled, growing to 117 percent while MPs contribution to total sales grew 2.35 times.
The use of live-streaming has effectively introduced a new user experience and path to purchase on mobile. Users can seek out upcoming live streams from their favorite channels or make-up experts on the MP. These streams met their need for additional content during COVID-19, but also offered the opportunity to purchase, should the product(s) introduction during the stream appeal to them.
Although live-streaming is not new in China, the availability of the technology on WeChat is new as of 2020. As a result, the Sephora e-commerce MP has been cited at conferences and by industry analysts for its pioneering use of live-streaming within the cosmetics sector, as well the luxury retail category.
MP usage data has indicated that consumers have welcomed the additional feature on the MP. It has provided them with fresh content during a period when new content was in high demand. It also provided a new consolidated route to product discovery and purchase.