Campaign Summary

Big Bazaar brought consumers into its stores and generated revenue through India's first online-to-offline strategy. It revolutionized the shopping journey by developing and promoting a new form of Google search that brought consumers to the nearest Big Bazaar to redeem discounts.  
Strategy
Objective and Context:
Big Bazaar was competing with e-commerce domination in Google's search engine result pages. E-commerce giants such as Amazon and Flipkart had the upper hand in quality score and bidding capacity.
Big Bazaar's main objective was to counter these online threats, as a traditional retailer. During the first year of the campaign the major objective was to introduce a habit among consumers — to Google search for Big Bazaar followed by any category they were interested in — and be rewarded instantly.
Target Audience:
In India, Big Bazaar has more than 300 stores across 130 cities. Its core audience consists of females over the age of 25. For its Smart Search campaign, however, Big Bazaar wanted to target young Indian consumers, who relate more to the digital medium, offers, m-coupons, redemption, etc. It wanted to turn new age consumers into future loyalists.
Creative Strategy:
Google was where consumers started their research and where they needed to see Big Bazaar's offers — not on Amazon or on any other e-commerce platform. The key window for Big Bazaar to generate the most revenue was at the beginning of the month, when biggest purchases were being made. It then turned every Google search at the start of the purchase journey into a physical journey to the nearest Big Bazaar.
Execution
Overall Campaign Execution:
Instead, it created a unique path to Big Bazaar's special offers. The concept was simple yet effective — Big Bazaar developed and promoted a new form of search, taking advantage of its high level of unprompted awareness and Google's low prices when bidding on your own brand name. The concept was called "Smart Search," as it was the search terms that smart shoppers would use to access India's best bargains.

Smart Search was the simple act of typing "Big Bazaar" into Google, followed by a product or category, to get access to fantastic offers promoted by Big Bazaar at the top of search rankings. The first link that consumers saw directed them to a discount voucher that could be redeemed at the Big Bazaar store nearest their location. Smart Search ran only at the beginning of the month when consumers were better positioned to make large purchases.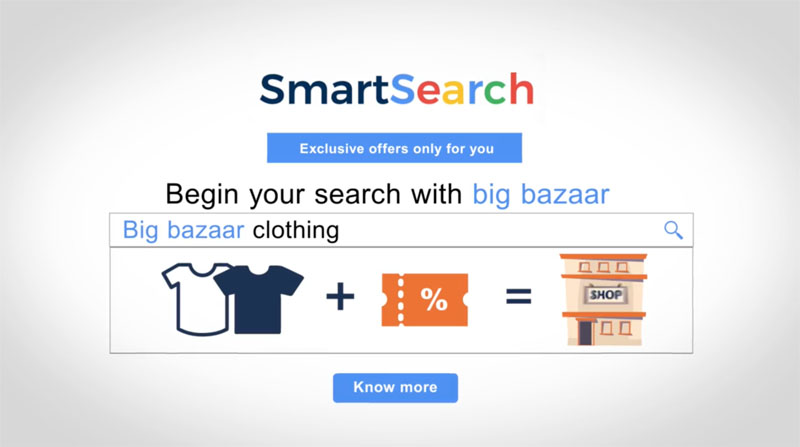 Mobile Execution:
Google Search in India is mobile dominated, and approximately 75 percent of searches are made on mobile. It was therefore imperative that Big Bazaar's campaign to be executed on mobile, making use of Google Search's mobile features.
There were multiple ways for consumers to claim their coupons. Apart from a regular landing page journey, Big Bazaar used Google features such as call-only ads and click-to-message extensions that reduced the consumer journey and were available only on mobile. The features had an auto revert mechanism that delivered a unique coupon code to the user.

Consumers who were near proximity of the Big Bazaar stores and those who have a high tendency to redeem coupons at stores were targeted. Big Bazaar used radius targeting with location bid adjustment, which resulted in lower spill over and higher redemption.
Results (including context, evaluation, and market impact)
Big Bazaar revolutionized the shopper journey by creating India's first online-to-offline strategy, driving return on investment at a ratio of 15:1. Every month it obtained $620,000 of revenue for every $46,000 of investment by using Google's algorithm, and it achieved better results than Amazon, Flipkart, and other e-commerce platforms. There were between 50,000 and 100,000 coupons dispersed each time, with a 32 percent redemption rate — compared to the standard two to three percent redemption rate across retail.  Average purchase size was double that of regular Big Bazaar customers, and Smart Search became a monthly event that enabled Big Bazaar to compete with global e-commerce giants.

In addition to the immediate bottom line benefits, the campaign created long-term brand saliency:
150% increase in searches for Big Bazaar on Google, or double that of other category brands
50% increase in searches of Big Bazaar stores on Google Maps
Consumer searches for "Big Bazaar Near Me" increased tenfold