Campaign Summary

Manulife wanted to change younger consumers' perception of health insurance in Hong Kong. The company partnered with a local singer and songwriter known for his active lifestyle to launch a campaign to inspire gen Y customers to move. Manulife offered a number of unique activities across multiple channels and gave all participants a wearable fitness tracker to track their progress. The campaign generated sales growth of more than 14 percent, and Manulife saw a 54 percent year-over-year demographic growth of gen Y customers.
Strategy
Objective and Context:
Manulife is No. 1 in brand consideration for retirement solutions, but the company had reduced brand relevance among gen Y consumers in the competitive life and health insurance category. Traditionally, people believe that insurance products are promoted on fear, unnecessarily complicated, and lack true engagement over the customer lifecycle. Furthermore, while gen Y are interested in health and wellness as a concept, they won't sacrifice their already busy schedule to commit extra time to become healthier.
Manulife wanted to shift its focus in 2015 to attract a new and younger generation to its brand through its health insurance offerings. It also sought to increase its market share and achieve sales performance that could also stimulate growth in the market despite a downward trend in the sector. Manulife launched a campaign to create a relevant proposition to younger consumers that brought about true behavioral change.
Target Audience:
Manulife's target audience was gen Y. Empowered by technology, they can decide what they watch, see, and listen to. They want a brand with a purpose that will help them resolve cultural tension.
Creative Strategy:
To reach its target audience, Manulife's campaign required a disruptive category strategy with strong relevance to the Hong Kong macro-environment. Guided by the insight that humans aspire to live a healthy life without sacrificing too much, the company launched ManulifeMOVE, an insurance concept that rewarded customers for moving more. It created an integrated platform that utilized the latest wearable technology and best practice digital integration to inspire a new generation of customers to embrace health and wellness.

Inspired by new technological possibilities like real-time analytics and cloud computing, Manulife saw an opportunity to shape a new marketing approach for health insurance products. It provided every ManulifeMOVE customer with a wearable fitness tracker and developed an activity tracking program that synchronized with its custom branded mobile app.

Manulife continuously collected and rewarded individuals' progress on daily healthy activities. The entire user experience was meticulously designed to be fun and engaging. Every interaction within the ManulifeMOVE mobile app was localized to motivate healthy living. The company turned media touchpoints into a gym where it encouraged consumers to lead a more active and healthier lifestyle.
Execution
Overall Campaign Execution:
Manulife launched its campaign with a simple offer underpinned with both financial and health incentives. To combat the perception of Manulife as a brand for mature people and make it more accessible for everyone, it signed Chau Pakho, a singer and songwriter well known for his active lifestyle and strong social media footprint, to build credibility among a younger Hong Kong audience.

Manulife then launched a range of unique activities across multiple channels, all of which were rooted in Hong Kong gen Y interests and routines. It created a commercial featuring Pakho running, skateboarding, and dancing in the city, inspiring movement anywhere, everywhere in the urban context. Print and out-of-home ads near Hong Kong's mass transit railway encouraged commuters to take a few more steps. Manulife partnered with Spotify to curate a dedicated playlist for errands such as dog-walking and house-cleaning to make movement enjoyable when doing chores. At high-traffic areas throughout the city, booths powered by motion-sensor technology challenged passersby to move like Pakho. The challenge was streamed on social media and gen Y influencers and celebrities posted their scores on a real-time leader board.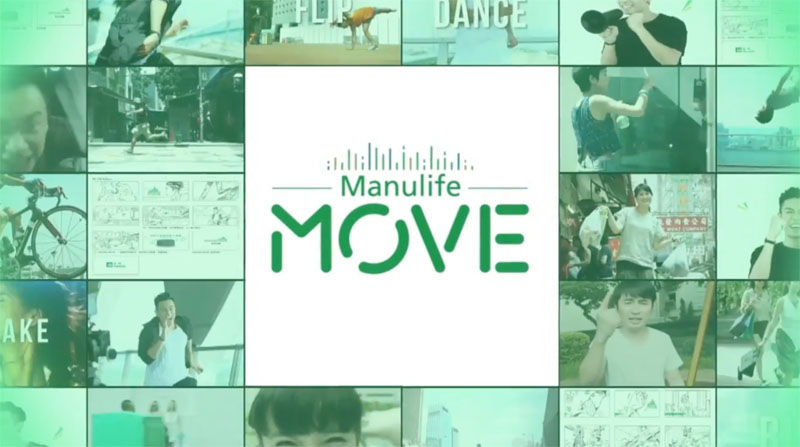 Mobile Execution:
Manulife used cutting-edge gesture-enabled advertising and precision targeting to engage customers. Music playlists on Spotify encouraged on-the-go consumers to move around when doing household activities. Manulife's walking guides served as mobile social content to get consumers walking through the weekend. Mobile data from the campaign gave Manulife's consumer service team a seamless view and understanding of its consumers, enabling a better service delivery.
Results (including context, evaluation, and market impact)
Manulife needed to overcome the negative perception of insurance and drive gen Y to overcome their apathy. Over the span of six months, ManulifeMOVE participants cumulated a total of more than two billion steps. The campaign website received more than 300,000 unique visits and social content had close to 530,000 likes.
Despite a 2 percent decline in the insurance market, the ManulifeMOVE campaign generated sales growth of more than 14 percent. Manulife's market share grew 19 percent, exceeding its original target of 10 percent. Manulife exceeded its enrollment target by more than 30 percent and saw a 54 percent year-over-year demographic growth of gen Y customers. The campaign is being replicated in other markets, including the Philippines and Asia.