Campaign Summary
Chupa Chups brought the idea of "Forever Fun" to life to become the No.1 candy brand in Vietnam among digitally-native teens and further expand its business.
Strategy
Objective and Context:
Chupa Chups is one of the most popular candy brands for Vietnamese teens. In 2019, Chupa Chups introduced the brand idea of "Forever Fun" to keep the fun of childhood going forever. By doing so, Chupa Chups aimed to become the new fun buddy for Vietnamese teens and become the No.1 candy brand in Vietnam in terms of both volume and revenue. It also aimed to further expand its business by launching many new innovative products.
While the brand Chupa Chups is well-known, brand personalities had not yet been established, which made it difficult for the brand to maintain a strong presence in teens' daily lives. In the past Chupa Chups has tried too hard to make its products fun through a hard-selling approach, which led to an irrelevant brand image. This time, Chupa Chups' communication objective was to bring the brand idea of Forever Fun to life among digital teens in a relevant and exciting way that would make sure they engaged with the brand.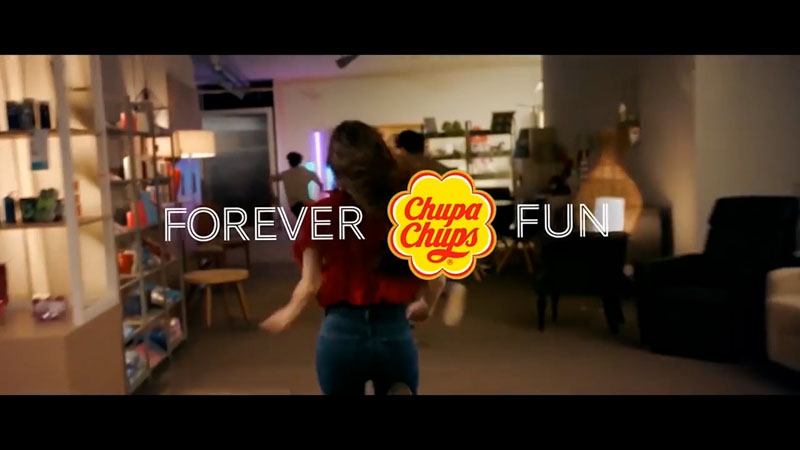 In previous years, Chupa Chups wasn't seen as a fun brand on its Facebook fan page due to irrelevancy, and so it decided to spice up its content. By doing so it aimed to build up brand relevancy, trigger engagement from consumers, and most importantly generate positive business result for Chupa Chups.
Target Audience:
The target audience was creative youth, or Vietnamese teens between the ages of 11 and 19, born and raised in the digital era with various social media platforms. As this audience hit their teenage years, family and society were telling them to grow up. To fit in, teens had to deny the kids inside them who still wantto have fun. With the Forever Fun brand idea, Chupa Chups would bring the joy back to these teenagers' lives by leveraging the leading platform where they seek fun the most: Facebook.
Vietnamese teens prefer to consume entertaining content on Facebook. They usually update and follow pages with entertaining and fun content instead of reading news. When there is content that they believe to be truly fun, they will fully engage with it, posting witty comments, sharing it with friends, and joining activities.
However, this audience does not lack choices when it comes to fun content on Facebook. There are thousands of new pieces of content each day, all with the goal to entertain. Not only is it difficult to draw teenagers' attention, but it is also challenging to keep them entertained for long as new content and new trends pop up every hour. Chupa Chups set out to create content that stands out, make this audience laugh-out-loud (lol), and unlock engagement.
Creative Strategy:
Chupa Chups put Vietnamese creative youngsters at the center of its creative strategy so this audience could experience their lives through the lens of Forever Fun. With this approach, Chupa Chups was able to speak in their language, from top prioritized topics such as school, family, friendships, etc. to daily interested subjects such as trends on social media or even the biggest situation of 2020: COVID-19. The brand was still able to find a way to deliver its core value of fun when it came to the global pandemic. Furthermore, it understood this audience's desire of self-expression and their behavior on social media as an active engager. Chupa Chups twisted its content into different formats, working with different popular social communities and coming up with different tactics to trigger them to interact with the brand in the same way that they talk with their peers. This creative strategy helped the brand successfully bring Forever Fun into consumers' lives and consistently promote its full product portfolio under one global proposition.
Execution
Overall Campaign Execution:
In every group of friends, there is always a person playing the role of a comedian: he or she has a lot of stories to share that open up endless conversations and end in big silly laughs. As a brand standing for fun, Chupa Chups wanted to be that person instead of being a mundane advertising page. Therefore, it decided to become "The Fun Stimulator" who understands this audience's life and knows how to inject fun into every situation. The creative execution focused on two key aspects: fun and the stimulator.
Fun: Chupa Chups reflects the strong humorous characteristics of its audience. It does so by talking about popular activities and topics such as freestyle drawing, troll friends, showing your true self with friends, etc. The brand also quickly adapts to new social trends with unique touches to stay relevant.
Stimulator: Since this audience loves to share their opinion, express their imagination and creativity, and tag friends in interesting content, the brand came up with various ways to satisfy those needs. It highlighted activities such as a series of triggered questions called "So You Think You Are Smart?"The brand also launched a gum-filled product, a freestyle drawing challenge, and a game to play while staying home during social distancing.
Mobile Execution:
The "creative youth" is the youngest generation and is not only digital native but also mobile native. This group experiences and engages with social content, mostly on mobile devices. Understanding the importance of mobile, Chupa Chups designed specific content to engage this audience on mobile devices.
The brand created a challenge for creative youth to doodle using their fingers on a mobile phone. The challenges were fun and easy to join. The brand obtained 293 submissions of funny doodles. It also created content that required this audience to interact with their mobile phone (by turning it upside down, shaking it, etc.), which stimulates creativity and brings fun for them on the go.
Results (including context, evaluation, and market impact)
The campaign had a strong impact on customer engagement, which was a key metric for the brand. Within the time frame from July 1, 2019 to July 31, 2020 Chupa Chups achieved:
Total impressions: 129,115,797
Total engagement (reaction, comment, share, and video views): 12,910,242
Engagement rate: 10 percent
The most engaging content achieved more than one million engagements with a 31 percent engagement rate, creating a mini trend among youth. The campaign ultimately played an essential role in making Chupa Chups the No. 1 jelly candy brand in Vietnam. The business result was impressive, and Chupa Chups' value grew 14 percent in 2019, more than double the annual growth rate of 6 percent.
It successfully brought Forever Fun into the life of millions of young Vietnamese teens and enabled them to have fun whenever and wherever they were.