Campaign Summary
At a time when banking operations were limited, UnionBank took the opportunity to leverage the massive uplift in mobile gaming among its target audience and strengthened its position as a 24/7 digital bank in the country.
Strategy
Objective and Context:
Committed to becoming the Philippines' leading digital bank, UnionBank has consistently stood out from its competition by being the first at embracing technological innovations to serve its customers' banking needs. UnionBank already enjoys an enviable spot in digital banking, but the goal is to achieve total industry domination by supplanting heritage brands and fully engaging customers to do everything digitally.
When the COVID-19 pandemic hit the Philippine shores, businesses and industries were left reeling from its impact. A common response among brands was to scale back advertising. Going against the grain, UnionBank recognized the opportunity to turn adversity to its advantage, launching a brand awareness and engagement campaign. At a time when banking operations were limited, UnionBank took the opportunity to leverage the massive uplift in mobile gaming among its target audience and strengthened its position as a round-the-clock digital bank in the country.
Building on its reputation as an innovator in the digital banking space, UnionBank became the first bank in the Philippines to launch a mobile campaign with a gamified execution. Historically, banks and companies in the financial sector in the Philippines follow a rigid approach to marketing. Qualities such as trust, efficiency, and security are often associated with banking campaigns – resulting in often serious and mundane campaigns. Confident it had already established its credibility, UnionBank wanted to get more personal by engaging its customers with something they enjoy: mobile games. The campaign not only increased brand awareness among its intended audience of fintech-savvy, young, and upwardly mobile Filipinos, it also made UnionBank truly relatable, effectively enhancing the bank's relationship with its target audience to a more personal level.
Target Audience:
UnionBank's target audience is made up of Filipino financial technology (fintech) enthusiasts, aged 18 and up. Upwardly mobile, these working adults are avid consumers of social and digital media. They embrace new, innovative technologies that add value to their lives.
According to AdColony's report on Coronavirus and Consumer Impact in Southeast Asia and the Philippines, these young professionals are heavily into gaming, with 38 percent of them doubling their time spent playing mobile games at the height of the pandemic. Moreover, since working from home became a mandate, 61 percent downloaded a new game, and 62 percent now play an average of three different mobile games. This audience segment has also been heavily online shopping in the last 90 days, and has clicked and engaged with financial and lifestyle-related mobile campaigns in the last 30 days.
As UnionBank's vision was to have a bigger share of the market, it made strategic sense to further refine its targeting to consumers who are digital natives and have already installed financial and banking apps.
Creative Strategy:
UnionBank's campaign strategy involved positioning itself as an efficient and convenient bank that operates 24/7 via its mobile app. With the pandemic dampening overall morale, UnionBank chose to deliver this message in a way that would bring joy and uplift the mood of its customers.
With limited physical access outside the home, the best way to excite and engage a restless, quarantined audience was via a gamified mobile campaign that simulated a trip to their nearest bank. An Instant-Play HD Video let users navigate as fast as they could through the city by tilting their smartphones to the nearest bank, which they inevitably found closed for the day. UnionBank then came to their rescue. By installing the UnionBank app, customers could have access to hassle-free banking, driving home the idea of "why go to a physical bank when you can bank from home with UnionBank?"
Execution
Overall Campaign Execution:
UnionBank's "Bank The Way You Live" mobile campaign was part of a larger nationwide campaign that covered TV, digital, and outdoor advertising. Approximately 46 percent of ad spend was for digital, of which 87 percent was dedicated to mobile.
The main objective of the mobile campaign was to build brand engagement by utilizing smartphone Instant-Play HD Video to build and deliver a highly engaging mobile gaming experience that excites its target audience. It began with a compelling video depicting the relatable frustrations experienced by a customer during the lockdown, eventually inviting the user to navigate through the city to find the nearest bank. This experience was powered by motion activation and made more exciting by gamification. The video concludes with an end-card flashing different transactions one can conduct remotely with UnionBank and a call-to-action that invites users to download and install the mobile app.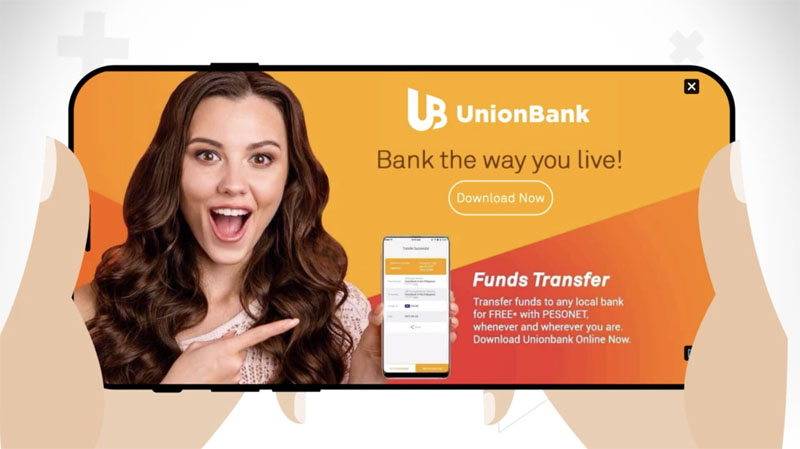 Mobile Execution:
UnionBank recognized that to effectively engage their target consumers of fintech-savvy young professionals, it needed to excite the banking industry convention by speaking a language their target audience understood. With mobile gaming seeing spikes in usage among its target audience as the COVID-19 pandemic developed, UnionBank leveraged this trend to build an innovative, interactive mobile campaign beyond traditional and digital media.
The mobile ad unit brought to the forefront the woes faced by banking consumers during the pandemic. With most banks closed, users were prompted to engage with the game by tilting their mobile phones to navigate through the city to find the nearest bank. The mobile gaming execution delivered a fun, immersive experience that amplified user engagement. Following the mini-game, a final frame on the end-card displayed the different banking transactions users can perform using the UnionBank app. This, combined with hyper-precise appographic targeting, ensured the UnionBank campaign was a stellar hit.
Results (including context, evaluation, and market impact)
A leading commercial bank in the Philippines, UnionBank has established a reputation for being the country's top digital bank, consistently winning "Best Digital Bank" awards for its revolutionary innovations to remain competitive in the financial services space while enhancing customer experience and enabling sustainable financial inclusion.
This year, UnionBank employed a more exciting campaign by augmenting its social and traditional media efforts with a mobile gaming campaign, an industry first in the Philippines. This was a game-changer that could support UnionBank to win over market share from its toughest competition.
UnionBank's Bank The Way You Live mobile campaign blasted off with stellar results, delivering five million engagements. The interactive mobile gaming campaign was so engaging that it garnered the highest engagement rate ever in the Philippines and across APAC at 275 percent,38 times higher than the industry benchmark of 7 percent. The video completion rate was 88.06 percent, above the industry benchmark of 70 percent.
Daring to launch an industry-first gamified mobile video campaign at a time when brands generally shied away from introducing anything new paid off for UnionBank. Playing in a traditionally conservative sector, UnionBank made a bold move to leverage the rise of millennial mobile gaming usage in its marketing campaign.
This not only led to fantastic engagement but generated more than 25,000 clicks to install the UnionBank app. Mobile gaming was so well-received that it contributed significantly to the success of the bigger UnionBank campaign. The mobile gaming initiative delivered a significant lift in ad recall for UnionBank at more than 3.4 points above the industry benchmark, and also increased brand awareness of the top digital bank by 1.9 points.
Such impressive results signaled to other brands that mobile gaming is in high consumer demand, making it a powerful platform for engaged reach.