Campaign Summary

In the luxury automotive space, customers have grown to expect brands to provide seamless, digitally connected experiences. With the extensive market adoption of smartphones, many automotive brands have created apps for their owners. Lincoln set out to create an owner app that was unrivaled in its category.
Strategy
Objective and Context:
Lincoln, a luxury automotive brand, wanted to keep up with the increasing expectations of its target audience, and bring some modernity to the brand experience. It created "The Lincoln Way" app to deliver highly personalized time-saving features and services to its customers. The goal of the app was to keep customers connected to their vehicle, providing access to the features and benefits of Lincoln ownership and building a personal relationship with the brand.
Target Audience:
The target audience included all current and future Lincoln owners that used an Apple or Android smartphone.
Creative Strategy:
The brand wanted to create an experience that complemented and extended the connectivity features of its vehicles, while offering an array of personalized luxury services. The app was designed to be aesthetically pleasing, reflecting a consistent Lincoln brand image. It greeted customers by name and displayed an image of their Lincoln vehicle. The interface was crafted to be intuitive and user-friendly.
Execution
Overall Campaign Execution:
Lincoln took all of the elements of its concierge customer service and integrated them into an easy-to-use app.
Mobile Execution:
Once paired with their vehicle, the app unlocked a wide range of services for customers, including connectivity features, personalized service offerings and features that enhanced the driver's peace of mind.
Connectivity Features:
Remote Vehicle Operation: Remotely start, stop, lock, unlock, and even schedule recurring automatic starts from virtually anywhere there is cellular service.
Vehicle Location: Find your vehicle virtually anywhere.
Parking: Find reserve and pay for parking in advance.
Fuel: Get directions and pricing to nearby fuel options.
Wi-Fi Hotspot: Setup and manage a mobile Wi-Fi hotspot.
Personalized Services:
Concierge: One-on-one personalized assistance from a Lincoln Concierge through calling, chat, or self-serve help topics.
Lincoln Pickup and Delivery: Schedule complimentary pickup and delivery of the customer's vehicle for service and maintenance needs, as well as a Lincoln loaner until service is completed.
Increased Peace of Mind:
Status Alerts: Provided driver notifications of potential issues with vehicle's fuel level, tire pressure, or oil life.
Roadside Assistance: Push-button access to roadside service.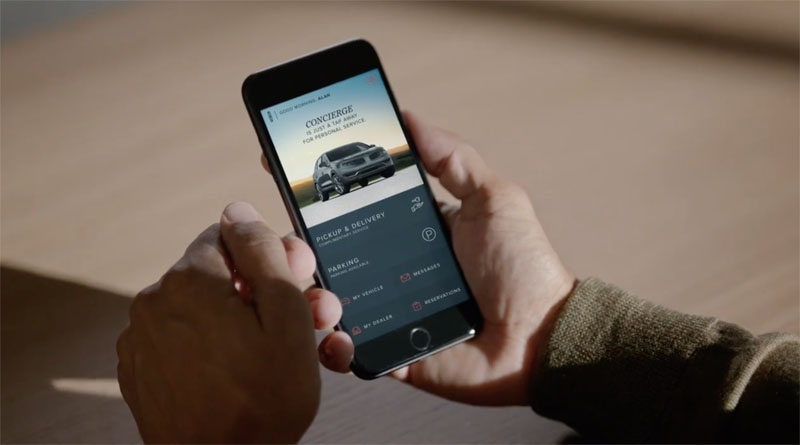 Results (including context, evaluation, and market impact)
The Lincoln Way app, since the launch in November of 2016, has scaled rapidly with more than 250,000 downloads to date across the U.S. and Canada. The demand generation efforts to grow the app member base were supported by omni-channel marketing programs. Lincoln dealers also took an active role in promoting the new app and ensuring that customers and their vehicles were connected to the Lincoln ecosystem. Among automotive brand owner apps, the Lincoln Way app was the highest rated, with 4.6 out of five stars in the Apple App Store, based on more than 9,800 ratings.