Campaign Summary

To drive traffic to its restaurants and increase product sales, the operator of McDonald's franchises across Brazil, Arcos Dourados Comércio de Alimentos Ltda., created a new take on a coupon program. The rolled out a campaign called "Bitecoin" which allowed users to collect fragments of McDonald's own cryptocurrency by interacting with the brand in a variety of ways. Once enough fragments were collected, the customer could redeem his or her Bitecoins at a McDonald's restaurant.
Strategy
Objective and Context:
McDonald's gives out millions of dollars in coupons, promotions, and discounts every day. The goal of this campaign was is to increase and stimulate the client base by generating a bigger visit flow to the restaurant and increased product conversion.
Target Audience:
The target was adults and young people from all social classes.
Creative Strategy:
McDonalds recognized that cryptocurrencies like Bitcoin were a trending topic. The brand wanted to leverage this trend, so it created a cryptocurrency of its own for a new take on a coupon program.
Execution
Overall Campaign Execution:
McDonald's created a new rewards platform for customers based on the dynamic universe of cryptocurrency. Bitecoins are McDonald's digital coin that can be converted into rewards. Just like all cryptocurrencies, it has to be mined, there are a limited number of the coins, and its value fluctuates with the "market."
Mobile Execution:
When passing by McDonald's out of home advertisement while using Waze, a notification containing the Bitecoin is sent to the user. The user would then access the wallet on the Bitecoin site, type in the code, and store the fraction of the value.
Users could also mine Bitecoins by downloading the app or sharing specific content on social networks. Once a user had accumulated one Bitecoin, he or should could redeem it at a McDonald's store for a discount.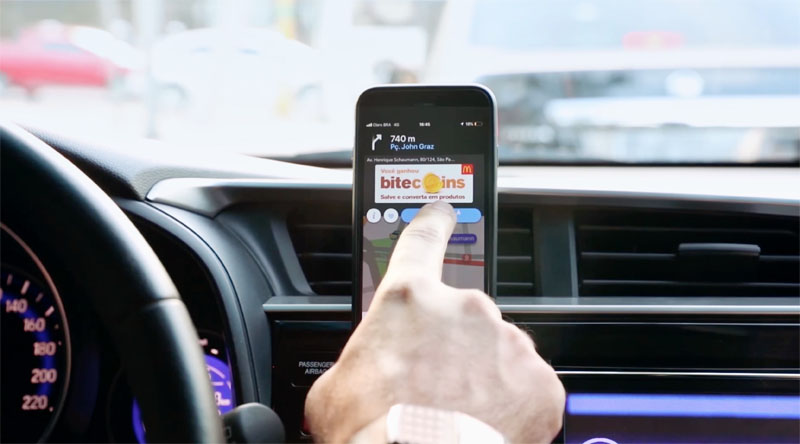 Results (including context, evaluation, and market impact)
On the first day of the platform going live, there were 63,660 impressions on Waze, of those, 47,000 were unique users. The average time spent on the site was almost two and a half minutes.