Campaign Summary

Consumers with disabilities are an underserved market in the personal technology space, and a common challenge for this segment is using touchscreen devices. Many current solutions on the market are prohibitively expensive, so Samsung created a free app to help customers with physical disabilities use devices such as smart phones and tablets more readily. The initiative helped an important consumer segment and helped the brand demonstrate its commitment to using technology to better the world.
Strategy
Objective and Context:
Samsung Canada has a history of creating rich digital experiences for their customers with disabilities. With a commitment to developing innovative technologies that enhance accessibility for all, Samsung's mobile phones and tablets come equipped with intuitive and easy-to-use technical solutions like Talk Back, Mono Audio, and Assistant Menu that help to improve the user experience for people with vision, hearing, dexterity, and other limitations.

Despite these advances, the current solutions didn't address the most severe limitations, and customers with more limiting disabilities must purchase alternative solutions, quite often at a significant cost, to participate in the digital world. As a result, the digital divide is overrepresented in the people with disabilities (PWD) market. Samsung wanted to bridge this this gap and raise brand awareness with this market segment.
The goal of the initiative was to bring innovative hands-free technology for Android devices at no-cost to people with disabilities, thus making touch-screen devices usable.
Target Audience:
An estimated 1.3 billion people globally report limitations in their daily activities due to a disability. As the largest minority group in the world, people with disabilities control over $1.2 trillion in spending. When the broader disability market, which consists of friends and family, is factored in, this number increases to $6.9 trillion. Yet this formidable market segment is mostly disregarded by brands and other organizations.
Creative Strategy:
Samsung worked with its agency partner, eSSENTIAL Accessibilty, to develop an innovative assistive technology application for Android devices. As the first app of its kind to make critical features available at no-cost to the end user, the technology is a suite of touch-replacement solutions designed to help people with physical disabilities browse the web, listen to music, watch videos, and communicate with friends and family hands-free.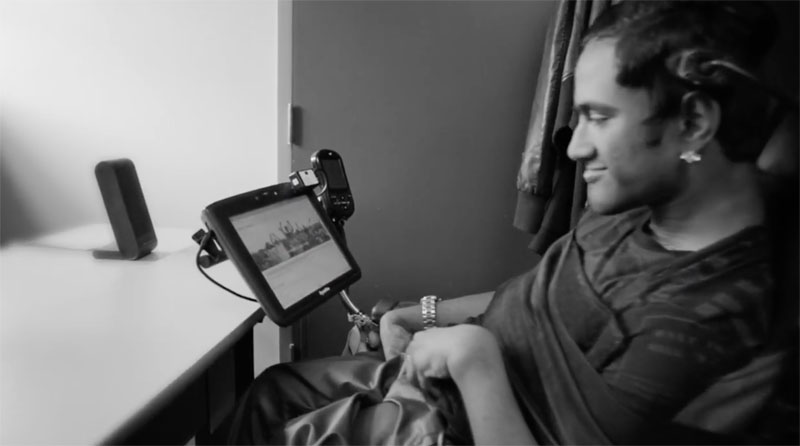 Execution
Overall Campaign Execution:
Samsung placed a recognizable, interactive icon on its website, which immediately projected an inclusive and disability-friendly digital presence. When consumers clicked on the icon, they were redirected to a dedicated resource page where they could download the technology and learn about the other products and features Samsung has developed for people with disabilities.
Through an innovative deployment model, Samsung Canada is able to offer this technology at no cost to customers who need it.
Mobile Execution:
The app was designed to help those with physical disabilities participate in the digital world fully. Some features of the app include:
Hands-Free Mode: The Viewfinder detects a user's face. A simple swipe of the head up, down, left, or right can control the cursor on the screen. Users can also tap, swipe and scroll using Hands-Free Mode.
XY Mode: This feature allows users with limited dexterity to control the device using on-screen coordinates. Each point on the screen has latitude and longitude coordinates, similar to points on a map. This feature works seamlessly with switches that are part of motor scooters.
Easy Grid Mode: In this mode, individuals use voice commands to navigate web pages. A transparent grid appears on the screen, with columns and rows labeled with a number and a letter respectively. Users can move the cursor to the cell by speaking.
Tag Mode: This mode is also voice controlled, similar to Easy Grid. All clickable points are highlighted and labeled with a number and a letter. The user simply says the letter and corresponding number to navigate through the page.
Once the app is installed on the individual's device, updates are automatically pushed to the device when available. This includes any new features that are added to the app, bugs that have been resolved, or general technology updates. Through the model, individuals also have the freedom to download the technology on as many Android devices as they'd like.
Results (including context, evaluation, and market impact)
Samsung's mission is to inspire the world with innovative technologies, products and design that enriches people's lives and contributes to social prosperity by creating a new future. Offering this technology to consumers with physical disabilities is a vital component of Samsung's corporate citizenship initiatives.
Over 20,000 people inquired about the technology and over 950 users installed it during the first phase of the launch. The app was well received by people living with the disabilities, occupational therapists working with individuals with disabilities, and brands globally. The technology will also become a standard feature on select Samsung devices around the world.

By narrowing the digital divide, the technology is giving individuals with disabilities the ability to be seen, heard, and felt by organizations globally. When a brand invests in their customers with disabilities, as part of their overall strategy, they reap the rewards: increased brand loyalty from invested customers, and a healthy bottom line.