Campaign Summary

Consumers receive more messaging than ever, so Dunkin' Donuts was looking for a fun and interesting way to use mobile technology to keep its audience excited about and engaged with the brand. By partnering with Waze and using location-based mobile technology, Dunkin' Donuts created an "On-the-Go Mobile Ordering" system to save consumers time both on the road and in line.
Strategy
Objective and Context:
Waze and Dunkin' Donuts partnered to save consumers time both on the road and in line by connecting the Dunkin' Donuts On-the-Go Mobile Ordering system to Waze. Before hitting the road, drivers only needed to search for their preferred Dunkin' Donuts location within Waze and tap the "Order Ahead" button to launch the Dunkin Donuts in-app ordering experience for that store. Waze Order Ahead is one example of how the navigation app can personalize the driving experience for its users while creating a new opportunity for brands to further engage their fans.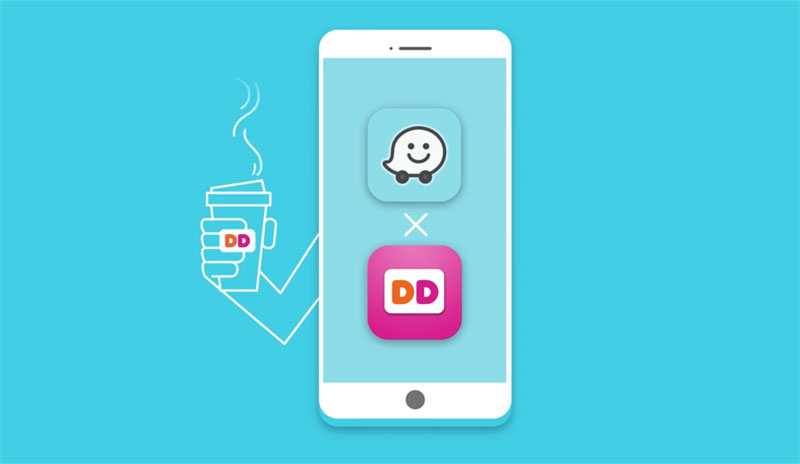 Target Audience:
The launch of Waze Order Ahead featuring Dunkin' Donuts On-the-Go Mobile Ordering focused on tech-savvy consumers within the U.S. who value convenience and time. One hundred percent of Waze users are in the car and accessing technology to outsmart traffic. The Waze campaign targeted drivers headed to work as well as like-minded consumers searching for "coffee" and "Dunkin" in the app.
Creative Strategy:
Waze worked in tandem with Dunkin' to develop a first-to-market, deep-linking solution that connects an advertiser's location on Waze to its own in-app ordering system. Brands can now prompt users to Order Ahead via the new click-to-action button on the Location Preview Page before they start their drive.
To promote the integration to users, Waze pinned participating Dunkin' Donuts locations, delivered zero-speed takeovers to drivers whose routes passed through participating store location radiuses, and accessed users' in-app searches for "Dunkin'" or "coffee." Dunkin' Donuts' ad creative asked users to save a how-to video to their Waze inbox to watch once they completed their drive. Additional Dunkin' Donuts media encouraged user engagement via a "Remind Me" call to action, which sent an informative in-app message about the feature to each Waze user along with a follow-up push notification for those who opted in.
Execution
Overall Campaign Execution:
Order Ahead was announced via an Associated Press exclusive, which generated 1.4 billion press impressions.
Mobile Execution:
Waze leveraged mobile media's ability to reach people in the micro-moment, when they're searching for nearby solutions. In addition to presenting consumers with the option to drive to their nearby Dunkin' Donuts, Waze and Dunkin' Donuts created a first-of-its-kind location-based ordering functionality that perfectly blended real-world behaviors with mobile media.
Results (including context, evaluation, and market impact)
Dunkin' Donuts On-the-Go Mobile Ordering ads performed 300 percent better than the standard "Perks Download App" ads, proving the value of integrated brand experiences in the native environment.