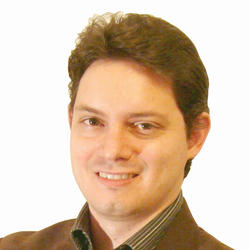 Profissional com mais de 15 anos de experiência em projetos digitais e de mídia online/offline. É um dos pioneiros da mídia programática no Brasil e é palestrante em eventos do IAB e da MMA (Mobile Marketing Association).
Possui passagem pelas agências Addcomm, Tesla, Tribo e Wunderman. Em sua última experiência montou a primeira PBU (Programmatic Business Unit) do Brasil. Trabalhou com diferentes segmentos da indústria e marcas como Dell, Mitsubishi Motors, Land Rover, TAM, Vivo, Roche, P&G, J&J, SulAmérica, Catho, Rossi Residencial, entre outros, em campanhas de Branding e de Performance.
---
More than 15 years of experience in digital projects and  online/off-line media. One of the pioneers of programmatic media in Brazil.
His background includes agencies such as Addcomm, Tesla, Tribo and Wunderman and he has worked with different brands and segments : Dell,, Mitsubishi, Land Rover, Vivo, P&G and others.