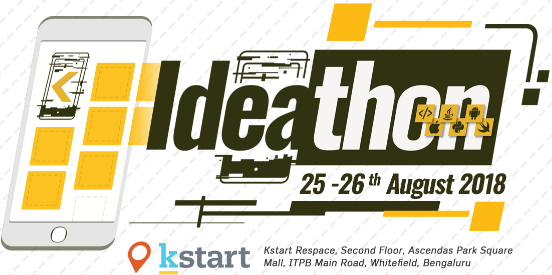 August 25, 2018

to

August 26, 2018
Participating Brand Partners
Advertisers! Get ready to have your brand problems solved by tech enthusiasts over a 30-hour hackathon!
Background:
Brands today are way more open minded about solving problems in a new fashion way. With high screen time, mobile has become the primary go to for all consumers targeted by advertisers. To overcome increasing brand challenges in this highly competitive industry, MMA brings to you an IDEATHON to discover real brand solutions by hiring as well as meeting the best & the youngest minds from Bangalore. IncubateIND provides the perfect ground to network & teamwork for tech driven entrepreneurs & students. Together MMA & IncubateIND's aim is to launch a platform that would give brands innovative solutions by young techpreneurs who would in turn be fostered & well-guided.
How does it work?
Advertisers will define their problem statement & set their expectations clear in terms of issues faced with an outcome they desire. After 30 nonstop hours, attendees will present their solution in front of the brand owners. 3 winners will be chosen via a panel of judges.
Ideathon Challenges
Change the world of hassle & puzzled industries during a 30 hour hack, in which you'll take mobile apps to the next level. You can explore the area of your choice from any of the three categories mentioned below. 
Pick one Problem Statement and sumbit your idea for final selection.
Vodafone

Vodafone U - A digital first engagement platform that helps you get more out of life by providing you with the resources that you are short on.
Vodafone U provides various telco & non telco offers specially designed for the need of youth. It also has a special hacks section for value for money lifestyle hacks.
Tata Sampann

We exist to turn everyday Indian staple foods into power foods to make Indian households 'Nutrition Sampann'.
We believe that real health and fitness comes not from senseless subtractions, but by enriching the nutrient value of foods eaten everyday.
Our approach is to bring consumers products that are at the intersection of modern science and traditional Indian wisdom, thereby positioning ourselves as experts in the science of Indian wisdom.
Cleanipedia Unilever

Cleanipedia in India is an upcoming multi-channel platform which intends to portal where we build an on-going relationship with consumer on topics around Home care.
By Multi-channel we mean we would have a fully-functional website along with a very active presence across Social media (Facebook, Instagram) and Video Channels (YouTube).
We want to this platform to evolve into a portal where consumers to come to seek knowledge around any of their Home related problems.
We intend to grow this platform big where we have around 10 Mn+ Month Active Users (MAU means – unique users for whom the total session duration is more than 60 sec).
Godrej

The 4460 crore household insecticide category consists of many formats in India . However, if we try and segment the market into "out of home" and "in-home" formats, the in-home formats constitutes 97% of the market.
The personal repellent category or out of home formats stands at only 127 odd crores with HH penetration of only 1.1%.
This is an anomaly especially considering the fact that a person spends as much time out of home as he / she does in home. If we look at other markets around the world, the out of home category is much bigger in countries like the US (40%), China (22%), Indonesia (15%) etc. Good knight being the market leader, sees an opportunity to tap and grow this 
Day 1 agenda
Time

Activity

9am - 10am

Registration

10am - 10:30am

Inauguration

10:30am - 11am

Keynote

11:30am

Ideathon begins

1pm - 2pm

Lunch break

2pm - 2:30pm

Workshop

2:30pm - 3pm

Panel session

5:30pm - 6pm

Hi-tea & snacks

7pm - 8:30pm

Checkpoint 1

8:30pm - 9:30pm

Dinner

 
Day 2 Agenda
| | |
| --- | --- |
| Time | Activity |
| 1am | Midnight Snack |
| 2am - 3:30am | Checkpoint 2 |
| 8am - 9am | Breakfast |
| 9am | Final Checkpoint |
| 11:30am - 12pm | Final submission |
| 12pm | lunch |
| 12:30pm - 3pm | Pitching session |
| 3pm | Closing ceremony |
Advantages:
High brand awareness for your product
Exposure to new & innovative ideas
Attract & meet the best talent
Guidance for participants by K-Start's team in the form of knowledge, training & networking
Who would pitch?
Startups/Technology Student community
When: 25th & 26th Aug, 2018
Where: K-Start, Bangalore
Meet our esteemed Jury
Partnered with:
PR Partner: