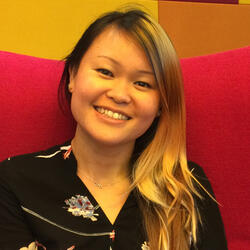 Inez has over 12 years of experience in branding and advertising. She started her love for communications when she was granted an interview at TBWA/Chiat Day New York. Her creative knowledge was then honed at Saatchi & Saatchi Singapore, with the privilege to work with great teams to produce award-winning work (Effie and IAS Hall of Fame). That established her background with offline media: TV/Print/Radio/Outdoor/DM/POS/Events, across both B2B and B2C portfolios.
A conversationist and opportunist at heart, she believes in partnerships, innovations and collaborations. Currently in her 7th year with Yahoo Asia Pacific, she partners closely with brands and media agencies in understanding their business challenges and strategizing cross-functionally with both the local markets and the regional teams.
A strong advocate in digital, she is passionate about crafting and sharing effective strategies to engage consumers. Her current focus is on driving new adoption of media strategies as consumers' media consumption habits rapidly evolves.