You may download the requested file(s) below.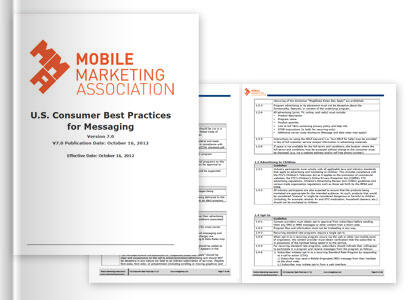 The Mobile Marketing Association (MMA) is the premier global non-profit trade association representing all players in the mobile marketing value chain. With more than 700 member companies, the MMA is an action-oriented organization with global focus, regional actions and local relevance. The MMA's primary focus is to establish mobile as an indispensable part of the marketing mix. The MMA works to promote, educate, measure, guide and protect the mobile marketing industry worldwide. The MMA's global headquarters are located in the United States and it has regional chapters including North America (NA), Europe, Middle East and Africa (EMEA), Latin America (LATAM), and Asia Pacific (APAC) branches.
The MMA Consumer Best Practices (CBP) for Messaging, for the United States market, provides a guide to implementing short code programs. This guideline document is a compilation of accepted industry practices, common wireless carrier policies, and regulatory guidance that have been agreed upon by representative member companies from all parts of the off-deck ecosystem.
The US Consumer Best Practices Committee for Messaging developed these guidelines in collaboration with representatives from the following member companies:
4INFO, Inc.
Cincinnati Bell Wireless CTIA
Mobile Messenger
For more information, please contact:
Mobile Marketing Association
Email: [email protected]
www.mmaglobal.com